Home Page
Travel Page




Day-by-day accounts
Fri, 9/26
Sat, 9/27
Sun, 9/28
Mon, 9/29

Activity descriptions
Mariah May
Football
Family Activities
Hiking
Home > Travel > South Dakota September 2003 > Football Game
Football Game - Saturday, 27 September 2003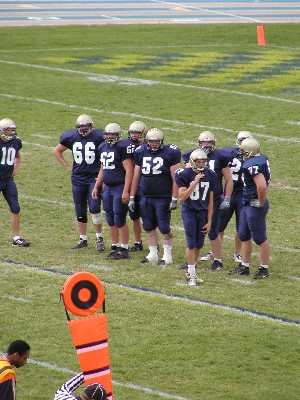 Joe (number 52) and his teammates wait while the officials measure.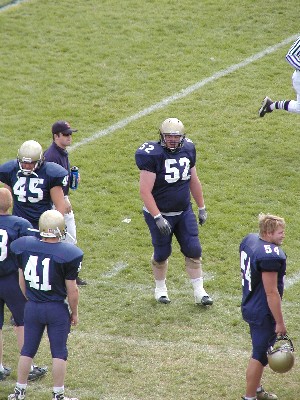 Joe comes off the field following a play.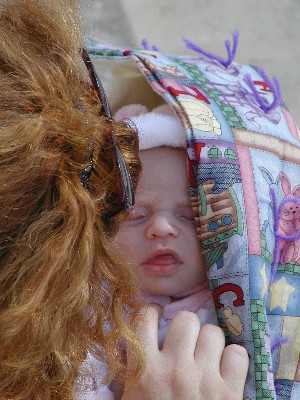 Dorothy holding Mariah May.
Brian holding Mariah May.
On Saturday afternoon, the group headed over the campus of South Dakota School of Mines and Technology for Joe's football game. The Hardrockers entered the game with a 1-2 record. Their opponent this time around was Mayville (North Dakota) State University.
It was homecoming week, and this added a few extras to the activities, including some halftime entertainment such as the freshman run around the field. Prior to the game, most of the group went onto the field to greet the team as they came out.
The Hardrockers got off to an early start, leading 14-0 after the first quarter and 28-7 after the third quarter. After giving up a pair of touchdowns in the final quarter, the game ended with a Hardrocker 28-20 victory.
Joe provided a bit of entertainment after each Hardrocker touchdown by showing the crowd his enthusiasm on the sidelines. Apparently he had obtained a bit of a reputation on one of the local news channels for his antics.
As spectators, we also had the opportunity to pass Mariah May around. Everyone had the opportunity to quietly sit and hold and enjoy her.
All text and photos © 2001-2003, Brian and Dorothy Hansen