Home Page
Travel Page




Day-by-day accounts
Fri, 9/26
Sat, 9/27
Sun, 9/28
Mon, 9/29

Activity descriptions
Mariah May
Football
Family Activities
Hiking
Home > Travel > South Dakota September 2003 > Day 4
Day 4 - Monday, 29 September 2003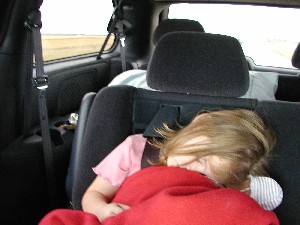 Amy during one of the few times she slept during the trip.
Monday was a travel day as we returned home. The trip was uneventful although it seemed very long. We got a late start, not leaving until about 7:30 am MDT. Although we occasionally were able to drive for long stretches, we had to at times make frequent stops to rest.
We did not arrive in Coffeyville to take Amy home until nearly 11:00 pm CDT and Dorothy and Brian did not arrive at home until about 1:00 am.
All text and photos © 2001-2003, Brian and Dorothy Hansen