Home Page
Travel Page




Day-by-day accounts
Fri, 9/26
Sat, 9/27
Sun, 9/28
Mon, 9/29

Activity descriptions
Mariah May
Football
Family Activities
Hiking
Home > Travel > South Dakota September 2003 > Day 1
Day 1 - Friday, 26 September 2003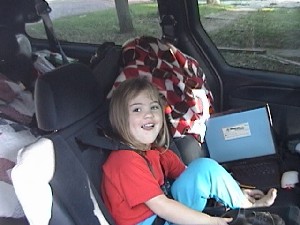 Amy is all geared up and ready to go.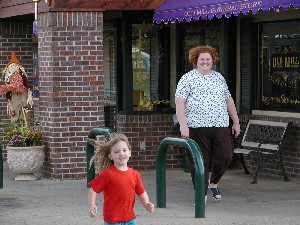 Amy is excited to get back on the road and leaves Dorothy behind during a gas stop in Elk Point, SD.
Friday was a travel day for us. We didn't have anything packed already, so after sleeping in, we still needed to get ready, including a trip to the grocery store for snacks and some other items.
We had met Dawn in Iola the day before and picked up Amy, and she was eager to go. After waiting around for what must have seemed like forever for her, her aunt and uncle were finally ready. It wasn't until about 9:30 am CDT that we left Ottawa.
We were worried about what it would be like to travel with Amy. After about a hundred miles she asked if we were almost there yet. We explained that no, there was still a long ways to go. Another hour later she asked again, and we told that we still had a long ways to go and that it would be dark outside by the time we got to Rapid City. She didn't ask again. In fact, later that evening Dorothy mentioned that we were getting close. "I thought you said we had a long way to go," was Amy's reply. I suppose compared to trips to Arizona, a mere twelve hours in the car is a snap for her.
Dorothy had had the fantastic idea just before leaving home that we could set up the laptop and let Amy watch movies on it. She grabbed five children's DVDs and Amy just watched them over and over. At first she would "get bored" with a particular movie and change to a different one. Nonetheless, it kept her entertained both going and coming. We did have a problem with the DVD player where it would occasionally error out and stop playing, but Amy took that in stride until Dorothy was able restart the movie.
Our major stop on the way up was at Mitchell, SD, where we visited the Cabela's store. Amy had a lot of fun looking at the animal displays, and in fact we had a hard time keeping up with her! Brian bought a backpack while at the store.
We had a bit of excitement - if you can call it that - when we started to run low on gas and found that all of the gas stations we were passing were closed for the evening. Towns become spread out west of the Missouri River and we had visions of having to walk a good long haul. Fortunately, just when it seemed hopeless, we came across a small-town gas station with 24-hour pay-at-the-pump service.
We arrived in Rapid City at about 10:00 pm MDT. We had hoped to surprise everyone with Amy, but it turns out that her mother had called ahead with instructions for Amy's medicine, so everyone already knew that she was coming. The house was crowded, with about 16 people under one roof.
All text and photos © 2001-2003, Brian and Dorothy Hansen