Home Page
Travel Page




Day-by-day accounts
Fri, 9/26
Sat, 9/27
Sun, 9/28
Mon, 9/29

Activity descriptions
Mariah May
Football
Family Activities
Hiking
Home > Travel > South Dakota September 2003 > Day 2
Day 2 - Saturday, 27 September 2003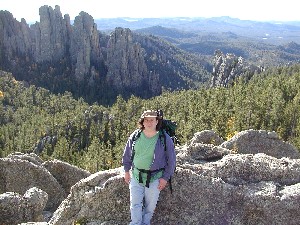 Brian stands atop Little Devil's Tower with the Cathedral Spires as a backdrop.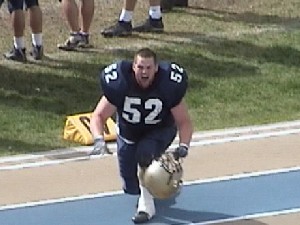 Joe shows the crowd his enthusiasm after a Hardrocker touchdown.
Saturday began early for Brian as he and several others went hiking in the Black Hills. Dorothy stayed at the house and socialized and worked on a baby quilt she was making for Mariah. She had worked on it a lot back in Ottawa and did a lot of the quilting on the drive up Friday. She had hoped to finish it before leaving Rapid City, but it was not to be.
In the afternoon the whole group went to Joe's football game. South Dakota School of Mines and Technology played Mayville State and won 28-20.
In the evening, we all had a dinner, along with several additional folks. The house was crowded and everyone had a good time.
All text and photos © 2001-2003, Brian and Dorothy Hansen