. . . a personal biography

(Note: This was sketched out as part of a book proposal
so it's not really a `bio' in the strict sense - yet. I will
revise it for family and friends . . .)

In 1961 Bill Boas wrote a letter to Texas Governor Price Daniel
who, three weeks later, made him an Honorary Citizen of Texas.
While in the U.S. Navy, he was awarded a George Washington Honor
Medal from the Freedom's Foundation at Valley Forge in 1964 for 130
words he submitted to a nationwide call for essays on the subject,
"My Vote, Freedom's Privilege."
In 1952, when 10 years old, he received a letter of commendation
from the president of the W. K. Kellogg Company, of Battle Creek,
for a submitting one "of the ten best entries" to a nationwide
children's advertising contest for the cereal manufacturer.
Mr. Boas has always been a strong, succinct writer, but didn't
start as a professional until 1975. From then until the present
he's been a privately and publicly active writer.
He was The Wall Street Journal's editorial correspondent in Denver,
Colorado from 1986 through 1988. For a five year period before
that, he wrote and reported many editorial assignments for Business
Week magazine and United Press International (UPI). His work has
also appeared in many regional and national trade, consumer, and
special interest publications.
In Denver, he received the 1982 "Morton Margolin Prize for
Distinguished Business Reporting", from a trust administered by the
University of Denver and awarded annually to the writer producing
the best business story about the Rocky Mountain Region. He won the
$1,000 prize for reporting and writing a 50 page special supplement
on the oil and gas industry contained in the September 1981 issue
of Colorado Business Magazine. Preferring independence, he
nonetheless once took a job as the editor of a community weekly to
see if `he could do it every week'. The community commended him for
the depth and fairness in his reporting and writing.
But writing is only one means of expression of his wide-ranging and
eclectic life. From New York City, he wasn't born with a silver
spoon in his mouth, but did grow up with the Seal of the Confederacy
on the fireplace mantle, and ate with sterling silver at every meal.
The only child of a Louisiana advertising man, and a Bronx bathing
beauty, he was sent to private boarding schools for the first six
grades. Between two of the schools, he skipped a grade and bypassed
established routes of formal academics thereafter.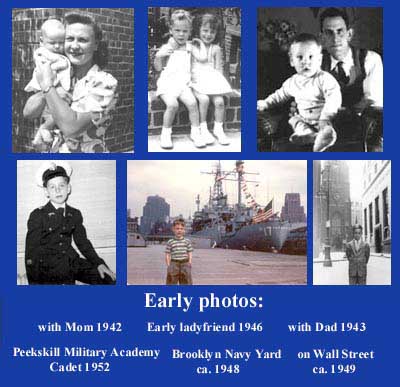 He was a pre-law student at the University of Texas at Austin,
where he learned to write. At the same time, he was on the
administrative staff of the university assigned to a military
scientific research program. A navy sailor, he saw duty in the air
intelligence office of the USS SARATOGA (CVA-60), and supply office
on a former LST home-ported in Naples, Italy. He's facile with
language and has a social command of French and Italian.
Back in New York City in 1968, at age 26, he became Business
Administrator of the American Academy of Dramatic Arts, at 120
Madison Ave., the country's oldest school of training for the
Broadway theater.
In 1969, Harold Ickes, Jr. hired him as press secretary for a
political committee lobbying an issue pending in the U.S. Senate.
The committee was co-chaired by the late elder statesman and New York
governor W. Averell Harriman, and he served as a spokesman for
Harriman with media around the country.

Additionally, while in New York City from 1968 through 1973 he was
an independent promoter whose construction interests did the
renovation work for G.M.T. Jones's revival of the Club El Morocco into
a private club on Manhattan's east side.
From his politically activist father, he became involved in
political campaigns starting in 1952. He worked mayoral, senate,
governor, and presidential campaigns in New York, Texas, and
Colorado through the l960s and 1970s, serving as a 1978 state
convention delegate in Colorado. While in New York, he became a
keen student of economics, Federal Reserve policy, and
international development.
In 1971, he wrote a paper to create a national environmental index
program which circulated privately among business leaders, bankers,
and environmental administrators in New York and Washington.
Moving to Colorado in 1973, he became disenchanted with mainstream
economic, media, and political thinking during the 1980s and while
actively working as a journalist, started to keep extensive notes
and thoughts on a variety of public topics in handwritten journals.
Trained as a photographer by his father, his photographic career
paralleled his editorial career from the mid-1970s to the present.
His photographs have appeared in publications as diverse as Opera
News, to Industrial Photography. He's been a competent silk
screener, yachtsman, modest art collector, outdoorsman, and is
trying to become musical.