LEICA M1 with LEICAVIT MP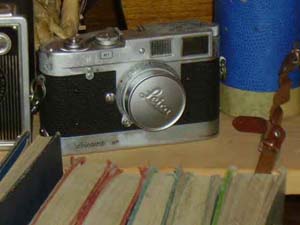 There is was. Sitting on a shelf at a country auction
in Eastern Colorado. I was previewing the auction the evening
before. I had never seen one, and thought they didn't even have
a viewfinder. This is not film photography country, so I quickly
checked the action, shutter speeds, and took off the Leicavit to
inspect for a cassette and the film plate. Speeds were erratic,
and it seemed they simply were not exercised lately.

I wrote down the serial number and that of the somewhat stiff
Elmar 50mm f3.5 collapsible lens and returned home for some `net'
homework. I was surprised by the rarity of both body and winder,
but as a 55 year Leica user, I perhaps should not have been.
The body was made in mid-1962, the lens in 1954.

That evening I had to think about a price and strategy to acquire
it at the next day's auction . . . the plan I evolved, worked. ;-)