Search for lemur news using Google. | Search for lemur news using FindArticles.

Welcome to happylemur.com! This is your central source for up-to-date lemur news and links. If you come across any articles or links I haven't listed, please tell me about it.

---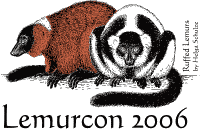 · Some pictures from Lemurcon 2006 are now online. Keep checking back as more will be added.
· The European Association of Zoos and Aquaria is conducting a campaign to raise €500,000 for Madagascar conservation projects.
· Lemurcon 2006 merchandise now available from Cafe Press. I hope to have real screen-printed t-shirts made as well.
· Duke University Primate Center's 8th Annual 5K Run for the Lemurs was April 22.
· The ring-tailed lemur narrowly lost out to the polar bear in the semifinals of the World Wildlife Fund's Favorite Animal Tournament.
· Pictures of Lemurcon 2005 are now online.
---

Bilbo the lemur takes metro to work - The Local

13 Apr 2007: "He gets on the train with Veronica Lindberg in the northern suburb of Alvik. But Bilbo, who is not really really a morning lemur, tends to stay wrapped inside a handkerchief under her jacket until they have travelled eight stops down the line to Central Station."

Swedes fall in love with baby lemur - The Telegraph

12 Apr 2007: "Tiny Bilbo, a rare baby bamboo lemur, has won the hearts of Swedes after being rejected by his mother when he was born six weeks ago, weighing just 30 grams."

Lemurs enjoy luxury upgrade - St. Albans Observer

4 Apr 2007: "A troop of bachelor lemurs stepped into their new Madagascar-style home at Whipsnade Zoo last week, after Radio One newsreader Dominic Byrne had opened the enclosure."

Stalking the rare indri - Indianapolis Star

18 Mar 2007: "This is the exotic quest to see the indri -- the world's largest lemur. There are none in zoos or research facilities. The only place you can see an indri is in the jungle-like rain forest of Madagascar, a poverty-ridden country with a unique ecosystem."

John Banks in Madagascar - tvnz.co.nz

5 Mar 2007: "[In this television program] John Banks sees the stunning mountains, beautiful rainforests and idyllic beaches which form Madagascar's wonderful landscape. Home to an incredible numbers of endangered lemurs, he spent time in the national parks and reserves in search of these remarkable creatures."

Slow Lorises Smuggler Eludes Arrest In Thailand - Playfuls.com

1 Mar 2007: "Bangkok police are hunting for a Japanese national who attempted to smuggle 23 baby slow lorises in his suitcase to Narita Airport last week but managed to elude arrest, an animal protection foundation said on Thursday."

Threatened Lemurs' Diet Key to Conservation Efforts, Researchers Say - National Geographic News

8 Feb 2007: "Arrigo-Nelson's research shows that animals living in unspoiled forest are eating a more nutritious diet than those in disturbed forest, since fruits and their seeds are a potent source of sugars and fats."

Feral beasts threaten lemurs in Madagascar - Mongabay

7 Feb 2007: "Continued deforestation, scattered hunting, and looming climate change all pose significant threats to some lemur populations. One largely unexamined threat comes from introduced species such as the Indian civet and mongoose, but especially dogs and cats that have become feral."

Lemurs communicate by scent - Mongabay

29 Jan 2007: "Ringtailed lemurs can recognize each other by scent according to a study published in the current issue of the journal Animal Behaviour."

16 Jan 2007: "Some of the planet's rarest and most unusual animals will be the focus of an ambitious conservation project launched today by British scientists."

Lemur Project Gets Praise - Saffron Walden Reporter

4 Jan 2007: "Conservation work to save rare lemurs by staff at Linton Zoo has led to the gardens being presented with an industry award."
25 Dec 2006: "Madagascar Wildlife Conservation, a Madagascar-based nonprofit, and the Jane Goodall Institute Switzerland have launched a new journal focused on conservation and development issues in Madagascar."

The Creature Feature: INDRI - The Statesman

14 Dec 2006: "This animal is a peculiar and unique resident of the mysterious Madagascar. The indri is the largest species of lemur in the world. The tribals named the indri, 'Babakoto,' meaning 'Ancestor of Man'."
6 Dec 2006: "Seneca Park Zoo Veterinarian Jeff Wyatt has made many trips to Madagascar's rain forest working to protect the fragile lemur population."

Myakka to unveil lemur research center - Bradenton Herald

2 Dec 2006: "The Myakka City Lemur Reserve has been protecting and studying lemurs since 1999 to understand their behavior and ecology as a scientific research center only. But starting in January, a new addition - the Mianatra Center for Lemur Studies - will be open to groups by appointment."
Earlier articles are on the Old News page.

---


Duke University Primate Center is home to the largest collection of lemurs outside of Madagascar. In addition to lemurs, the center also houses other prosimians such as lorises and bushbabies. Head over to their web site for lemur photos, a gift shop, and adopt-a-lemur.


Lemurcon

is an annual gathering of lemur lovers which takes place at the Duke University Primate Center. Originally composed of alt.fan.lemurs readers, it now includes others linked over the Internet.
Yahoo mailing list | Past Lemurcons | Lemurcon 2002 photos | Lemurcon 2003 photos | Lemurcon 2004 photos | Lemurcon 2004 t-shirts


Lemurs of Madagascar - a multimedia site containing detailed information about all species of Malagasy primates. Includes sounds and historical drawings. Developed by Jan-Herman van der Sloot.


Silky Sifakas - Research into silky sifakas conducted by Erik Patel. Includes recordings of various calls as well as video.


Conservation International applies innovations in science, economics, policy and community participation to protect the Earth's richest regions of plant and animal diversity in the hotspots, major tropical wilderness areas and key marine ecosystems.


Madagascar Fauna Group is an international consortium of zoos and related organizations that pool their talents and resources to work together in one of the world's most endangered places. Their site has up-to-date details on the status of the reintroduction of ruffed lemurs in Betampona.


The Lemur Conservation Foundation maintains a viable captive breeding colony of prosimians at the Myakka City Lemur Reserve, a private research facility in Manatee County, Florida.


Madagascar Wildlife Conservation is a Malagasy non-profit association providing an information resource on conservation and ecological activities in Madagascar.


Lemur News is the newsletter of the Madagascar section of the IUCN/SSC Primate Specialist Group. It includes scientific articles in both English and French.


Primate Info Net is a resource provided by the Wisconsin Regional Primate Research Center at the University of Wisconsin-Madison for information on all types of non-human primates. Their list of news articles is quite extensive, and is also available as an RSS feed
.


Zoboomafoo is a PBS wildlife series for preschoolers, hosted by a sifaka and his friends, Chris and Martin Kratt.


A Lemur's Tale: This Nature/PBS program opens a revealing window into life -- and death -- in a troop of these rare animals. Using painstakingly-gathered film, A Lemur's Tale tells the bittersweet tale of baby Ring-tailed lemurs, including an unusual near-albino infant named Sapphire, learning to survive in their treetop homes. Also check out this behind-the-scenes account from the photographer.


The Wilds of Madagascar: Journey into the lost world of Madagascar on this NOVA/PBS Online Adventure. In two little-visited regions -- a cave-riddled canyonland and a mountainous rain forest -- follow the efforts of scientists trying to capture and study a catlike predator known as the fossa and an extremely rare lemur called the silky sifaka.

Madagascar: A World Apart Part of the PBS "Living Edens" series, this program covers the amazing biodiversity of Madagascar, highlighting lemurs and chameleons.

---
Last updated 14 Apr 2007