The Canonical Brady Bunch Episode Guide
Winner of the first 1998 Silver Platter Award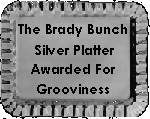 You are visitor number
The Canonical Brady Bunch Episode Guide
The original episode guide and still the best!
Here is the first edition of the episode guide.
Why this episode guide exists
Although I haven't watched "The Brady Bunch" in many years, it seemed interesting to read the books about the show. When the Usenet group alt.tv.brady-bunch was created, I was annoyed by the repetitive questions which it seemed a guide like this could answer.

The purpose of this guide is to provide a one line (or so) description of each episode for purposes of identification. I hoped that other people would contribute longer information about the episodes, and that has been done to some extent. (David Brady's episode guide, for example, consists of the actual synopses of the episodes written by the producers at the time of production.)

The Canonical Brady Bunch Episode Guide

This episode guide is to the short-lived "Brady Bunch Hour"

Here are references to the show found in The Brady Bunch Movie and A Very Brady Sequel

Return to Tony Hill's page of TV links

Return to Tony Hill's home page

© All Brady Bunch pictures, logos, sounds, etc. are owned by Paramount Pictures, Inc.