Macintosh PowerPC G3-333 DVD Desktop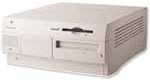 Description
Modified PowerPC G3-333 Desktop
Three PCI slots; two open, one with 3dfx card
MacOS 8.1 and QuickTime Pro 3.0
Memory
192 megs of SDRAM (2x 32 meg SDRAM, 1x 128 meg SDRAM)
6 megs VRAM

Video
Digital Research Technologies 19" monitor (DRMOM19) (1280 x 1024 x millions)
Built-In ATI Rage Pro w/ QT and 2D Acceleration
24 Bit composite video in/out
TechWorks PowerPro Voodoo (3dfx) card.
Apple DVD Personality Card with Video In/Out (RCA and SVHS)
Audio
16 Bit Audio in/out
10 WATT (RMS) Reveal Speakers
Koss CM1 Headphones
Technics Component Stereo (OK, the Audio Out gets branched a few times :-)

Printer
Apple Color StyleWriter 2500
Storage - Internal
8.7 gig Micropolis SCSI-2, 7400 rpm HD (3387NS, Rev X501)
4.0 gig Western Digital EIDE HD (AC24300L, Rev 08.09L08)
DVD 1x/20x (DVD/CDROM) Matshita (8582, Rev 0B8b)
(Audio only requires 1x, why tie up the 12x?)
Storage - External
x2/x6 (W/R) Phillips SCSI CD-ROM Recorder (CDD2600, Rev 1.07)
Actually, Philips has this AGAIN (Since 10 Sept 98) for repairs.
12x Toshiba Tray-loading SCSI-2 CD-ROM (CR-8005A, Rev 4.0i)
4x Matshita Tray-loading SCSI CD-ROM with Apple ROM (CDR 3750, Rev 0004)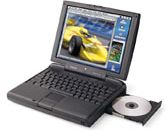 Networking to the PB G3-250
Built-In 10-Base T
5 Port Soho Advantage Ethernet Hub, Cat 5 cabling
Apple Talk via Ethernet, 400 kps throughput
Internet
Global Village 56k x2/v.90 external Fax/Modem (A702)
OT/PPP v1.3
Netscape Communicator 4.5 PR2
ProTERM 1.2.5
ZTerm 1.0.1

Input
Logitech Trackman Marble Trackball (804219-0000)
Apple Extended Keyboard II (M3502)
Gravis Mousestick II
Belkin Ergonomic Mousepad
MicroTek E3 SCSI Flatbed Scanner

Notes:

This is my fith G3. I've had a 233 Desktop for about three months, a 300 Desktop for about two weeks, a 300 Mintitower , and this one since 1 Oct 98. The PB G3-250 was number my fourth G3.