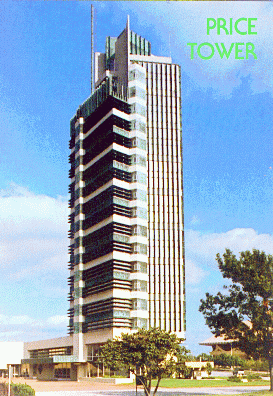 Price Tower
Bartlesville, Oklahoma

---
---
When Harold C. Price approached Frank Lloyd Wright with the prospect of designing a building for his Bartlesville pipeline construction firm, he envisioned a two- or three-story structure with parking for ten trucks. Wright immediately rejected the concept as inefficient and suggested 10 floors of 2,500 square feet each. Several months later, he presented Price with drawings for a nineteen-story, 37,000-square-foot, multi-use tower that would serve as corporate headquarters for the company with additional space for apartments and professional offices. Construction began in late 1953 and was completed in 1956.

The structural precedent for this "tower in a country town" was an unexecuted 1925 design for a New York City apartment building, St. Mark's Tower. Wright described the design as a tree-like mast; its concrete floor slabs cantilever like branches from four interior vertical supports of steel-reinforced concrete. Freed of their load-bearing function, the exterior walls became ornamental screens. The angled faces of the tower were constructed from twenty-inch copper louvers that shade the window surfaces, sheets of stamped copper, and gold-tinted glass.

The 186-foot-tall building comprises a two-story base and a seventeen-story tower. Most of the upper floors contain four diamond-shaped units allocated for use as apartments or offices. The southwest quadrant has a separate entrance and elevator to serve eight, two-story offices. The nineteenth floor, not a full quadrant, was reserved for Price's office and a rooftop garden overlooking the city. Wright designed the built-in desk and glass mural, as well as a mural on the seventeenth floor.

In 1981 Phillips Petroleum purchased the building. The Price Tower is one of seventeen structures designed by Wright to earn special recognition from the American Institute of Architects as representative of his contribution to American culture.

The client and architect enjoyed an easy and mutually respectful relationship; Wright designed two houses for members of the Price family, one in Bartlesville in 1953 and one in Arizona in 1954.

ADDRESS Google Map

Northeast Sixth Street at Dewey Avenue
Bartlesville, Oklahoma 74003
(918) 336-4949


--from Wright Sites: A Guide to Frank Lloyd Wright Public Places, edited by Arlene Sanderson
The Tower is now open 10 a.m. to 5 p.m. Tuesday through Saturday, and 12:30 p.m. till 5 p.m. Sundays. Tours of the Tower are conducted at 11 a.m. and 2 p.m. Tuesday through Saturday, and 2 p.m. Sundays.
Frederick Clifford Gibson's sketches of the Price Tower.
Great Buildings Online Page for the Price Tower.
Pictures from Ben Stallings: Exterior, H. Price's office interior, apartment interior with mosaic (if these links do not work for you, try them from here, which may not work either.)
Photograph as one of the Seventeen Buildings designated by the American Institute of Architects
Official Site of the Price Tower
Donate to the Price Tower Fund by making a tax deductible contribution payable to:
Bartlesville Museum Price Tower Fund
P.O. Box 2464
Bartlesville, OK 74005

My own pictures of the Price Tower; not great, but I took them myself
More sites:
Merryweather Photography
Article from The Wichita Eagle
Metropolis Magazine
Glass Steel and Stone, Global Architecture Directory
Article from the Northwest Indiana Times

History of Lincoln Logs, which were invented by John Lloyd Wright, son of Frank Lloyd Wright

While in Bartlesville, check out Woolaroc .
One week's statistics for this site, from Google Analytics
---
Jim Smith
bringing joy and carbon dioxide into the world since 1953
---
Am I the Jim Smith you are searching for? Read My Life Story
---
My favorites