Walk-On, Woman!
The sedentary life is the very sin against the Holy Spirit.
Only thoughts reached by walking have value.
--Friedrich Nietzsche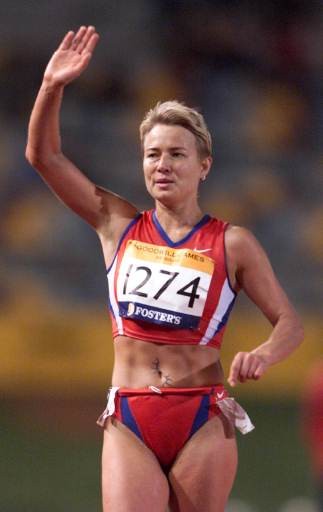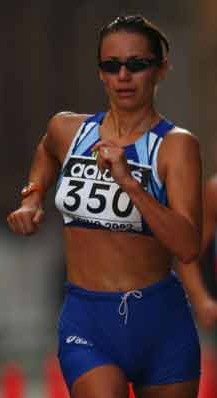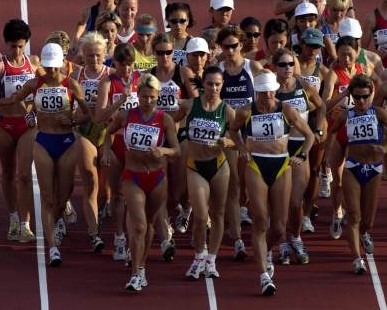 Racewalkers Olimpiada Ivanova, Erika Alfridi, and Women's 20K group
These women racewalkers demonstrate the power and beauty of the racewalking form -- as well as the superior conditioning effect of
racewalking. Olimpiada, Erika, and their rivals on the racewalking track show lean muscularlity with loads of endurance.
Let these racewalkers be an example to everyone -- man, woman and child. We have a problem in America with fat because we eat too much
and don't walk enough. This especially concerns children because the habits they learn early will mold them for life.
People! We need to walk FAST and LONG, and we will ENDURE!
Sample Power Walking Session
Add some upper-body when doing a walking workout. Technique as follows: Say you are going to walk around a track for 45 minutes,
warm-up about 10-minutes walking in "racewalker" bent elbow style; after that walk 15-minutes with a 1 to 3 lb dumbbell in each hand
while doing the "racewalker" bent elbow style; for the next 15-minutes rotate through a variety of dumb-bell movements while you walk:
overhead press, flys, curls, tricep extensions, shrugs, etc.; cool-down walking without the weights for 5-minutes just swinging your
arms in whatever way feels good. Common cast-iron dumbbells in the 1, 2 or 3 pound range are hard to beat and are commonly available in
sporting goods stores. 3-pound for men wanting a heavier weight. 2-pound for men wanting a medium weight, or women wanting a heavier
weight. 1-pound for women wanting a light to medium weight.
-- For a change of pace, do Step Aerobics --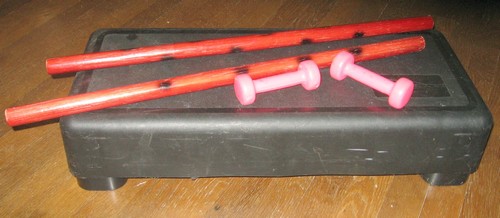 Stick Fighting Step Aerobics: Stay in shape and practice self-defense at the same time! Technique is very simple: Take two rattan Escrima
sticks and swing them around while you are stepping up and down on the aerobic step. Visualization technique: Imagine you are smacking a
car-jacker on the head or other vital areas ;-) or you could just swing the sticks rhythmically in synchronization with your steps.
Alternately, you can use 1-pound dumbells instead of the sticks.
Recommended reading on WALKING (check your local library or used-book dealer):
The Magic of Walking
by Aaron Sussman and Ruth Goode
NY: Simon and Schuster, 1967
The Walking Book
by Gerald Donaldson
NY: Holt, Rinehart and Winston, 1979
Speedwalking: the Exercise Alternative
by Lilian Rowen
NY: G.P. Putnam's Sons, 1980
Racewalking for Fun and Fitness
by John Gray
NJ: Prentice-Hall, 1985
Racewalking
by William Finley & Marion Weinstein
NY: Stephen Greene Press, 1985
Eating for Endurance
by Ellen Coleman
Palo Alto: Bull Pub. Co., 1992
Kathy Smith's Walkfit for a Better Body
by Kathy Smith and Susanna Levin
NY: Warner Books Inc., 1994
Walking With Weights
by Rob Underhill
VA: Walking Products Inc., 1998
Currently out-of-print: View (pdf)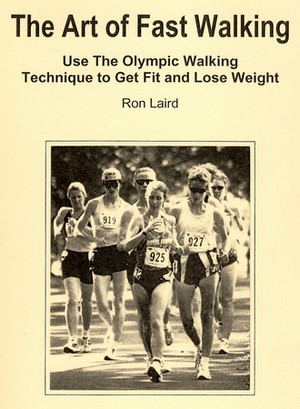 Racewalking secrets of an Olympian (see book below)
The Art of Fast Walking
by Ron Laird
Ashtabula, OH: Ron Laird Publishing, 1997, 2006
Purchase from author -- $25 (postpaid):
440-998-1371 (Summer/Fall), 269-695-2411 (Winter/Spring)
Step Aerobics
by Iris Pahmeier and Corinna Niederbaumer
Oxford: Meyer & Meyer Sport (UK), 2001
Walking With St. Raphael
by Rev. Lawrence G. Lovasik
1961, 2002
Publisher's address: 211 W. 7th Avenue, Tarentum, PA 15084
www.fatherlovasikpublications.com
Walking
by Henry D. Thoreau
(Originally published in Excursions, 1863)
TN: Watchmaker Pub., 2010
The Portable Nietzsche
trans. & ed. by Walter Kaufmann
NY: Viking Press, 1954
(Nietzsche "walking" quote, page 471)
Hands Off! Self-Defense for Women
by W.E. Fairbairn
Boulder: Paladin Press, 2004 (reprint of 1942 edition)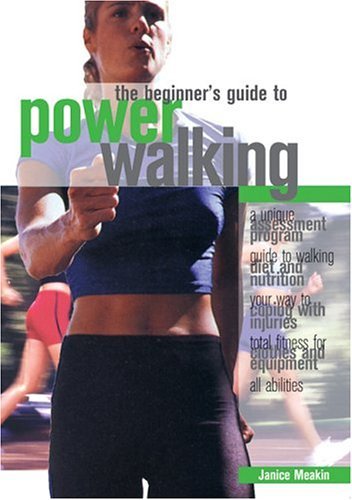 ---
HOME
The wild geese returning
Through the misty sky --
Behold, they look like
A letter written
In faint ink!
--Tsumori Kunimoto (1023-1103 A.D.)
Go-Ju-i 71, trans. by Arthur Waley, "Japanese Poetry: The Uta", 1919