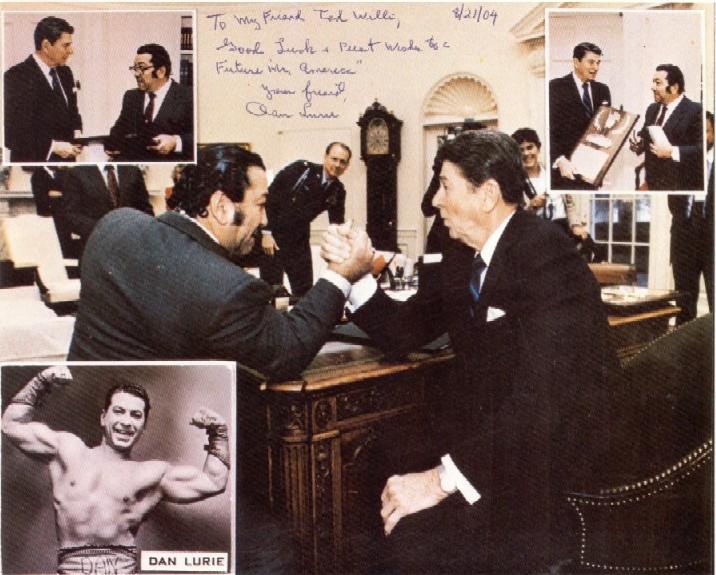 Dan Lurie is the embodiment of the American Dream, progressing from circus strongman, to fitness magazine publisher ("Muscle Training
Illustrated"), to arm-wrestling the President of the United States, Ronald Reagan. (!)
The Principles of Weight Training
In his book, "Instant Action Positrain," Dan Lurie summarizes what happens when a person lifts weights in a progressive way:

"Why is weight training with barbells and dumbbells so effective and looked upon as a superior way to develop a strong, muscular body?
Because it gives your muscles progressive resistance...you do various exercises starting with a light weight and as you become stronger, you
continue to add more and more weight to your barbell and dumbbells. This provides your muscles with greater and greater resistance -- and
it is this action on your muscles that causes them to contract and respond with amazing growth and strength. To put it simply: The more
weight you can exercise with, the stronger you become -- and the stronger you become, the bigger your muscles will grow."

And he puts weight training into historical context:

"The principles of weight training had their beginning in ancient times -- when the gladiators trained with some kind of weight resist-
ance to develop strength in their arms, shoulders and legs. With them, it was a matter of 'survival of the fittest' -- their very lives
depended on being in top shape! They didn't have barbells then, of course -- but they used objects of various weights to accomplish
their goal."

"Weight training became more refined over a hundred years ago and became more popular through such strength stars of the era as Eugene
Sandow, Louis Cyr, the Saxon brothers and others. But it is only in the last several decades or so that weight training has really come
into its own as the fastest, most effective way to develop extraordinary muscle and strength. Physical educators and athletic
trainers the world over use it in conditioning their athletes for top performance in competition. It has also been used successfully
by physical therapists in restoring the use of weak, damaged limbs."

We are the beneficiaries of these pioneers in weight training, whether we are sportsmen trying to improve our game, injured persons trying
to recover strength, regular working folks wanting to get in shape for more vitality in our daily lives, or physical culturists who simply
enjoy the endeavor.

Nothing to lose: All the barbell movements learned in a lifter's prime (Lunge, Squat, Bent-over Rows, overhead Press, Curls/Reverse Curls,
overhead Tricep Extension, etc.) can be utilized later in life with a simple 4-foot steel bar. The above EXER-BAR is an old 1-inch diameter
barbell bar wrapped in cloth tape, with rubber tips on the ends. The EXER-BAR is also great for warming-up before a barbell work-out.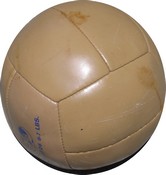 Recommended reading on WEIGHT-TRAINING (check your local library or used-book dealer):
Instant Action Positrain
by Dan Lurie
NY: Lurie-Lima Associates, 1979
Available from: POSITRAIN, Box 21, Vanderbilt Park, Valley Stream, NY 11581
www.danlurie.com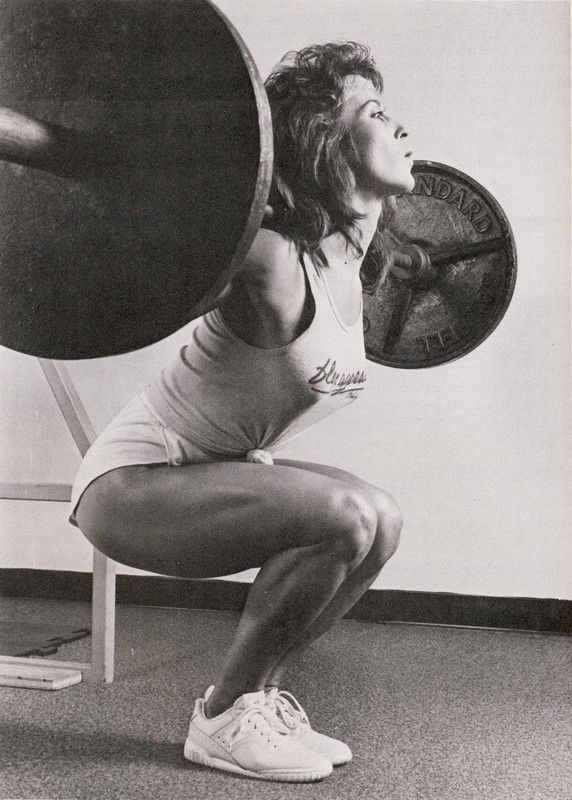 Ms. Olympia Rachel McLish performs a Squat (from book below)
Flex Appeal
by Rachel McLish
NY: Warner Books, 1984
Also see Rachel's action movie "Iron Eagle III - Aces" with Louis Gossett, Jr.
Secrets of my Strength
by Paul Anderson
Available from: Paul Anderson Youth Home
1603 McIntosh Street, Vidalia, GA 30474
912-537-7237
Excerpt (Anderson on attitude):
If one approaches a barbell and has a negative attitude, surely he is not going to be successful in the lift. This is the same with
approaching a golf ball or cocking the arm to throw a baseball or football. We must have a positive attitude about what we are
going to do. This is both in training and in actual competition. [pg. 17]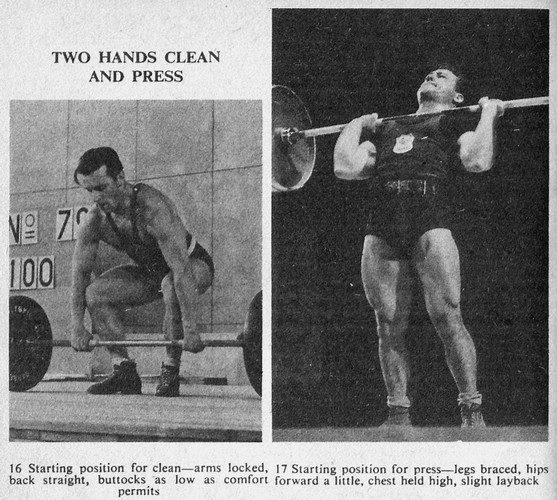 The classic and formative Clean & Press (from book below)
Weight Lifting and Weight Training
by George Kirkley
NY: Arco, 1963
Arnold: The Education of a Bodybuilder by Arnold Schwarzenegger
NY: Simon and Schuster, 1977
Winning Bodybuilding
by Dr. Franco Columbu
Chicago: Contemporary Books, 1977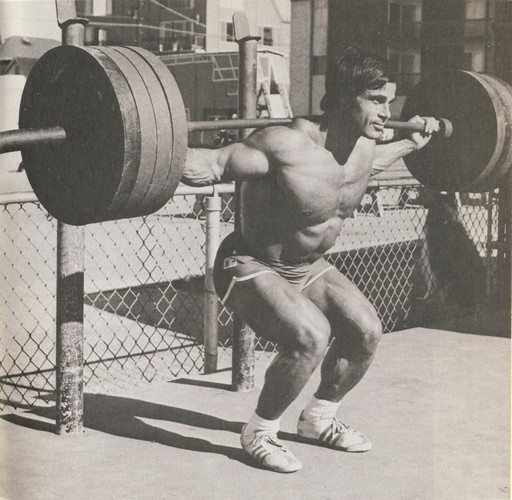 Franco Columbu performs the classic and formative Squat (from book below)
Winning Weight Lifting & Powerlifting
by Dr. Franco Columbu
Chicago: Contemporary Books, 1979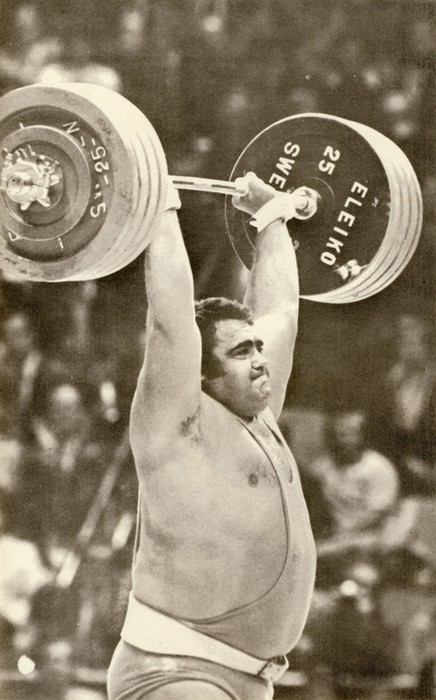 Vasili Alexeyev completes a record Clean & Jerk (from book below)
The Strongest Man in the World
[Vasili Alexeyev]
by Dmitry Ivanov
NY: Sphinx Press, 1979
Excerpt (Alexeyev on training):
Here they've put up a lot of mirrors in the gyms. They're good for furniture but not for training. When an athlete looks into the mirror
he gets away from himself; instead he should be totally focused. In the mirror you'll see nothing but your image. This means that you
won't understand and won't pick up the technique of exercise, you won't make sense out of the method. My advice during training is to
think, think, think!... [pg. 183]
The Bodybuilder's Nutrition Book by Dr. Franco Columbu
Chicago: Contemporary Books, 1985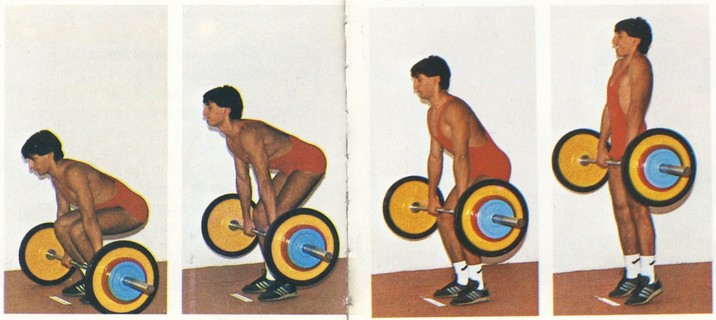 An Italian weightlifter performs the formative Deadlift and Shrug, going up on the toes (from book below)
La Pesistica per Tutti
by Stelvio Beraldo
Roma: Gremese Editore, 1986
Olympic Style Weightlifting
by Jim Schmitz
San Francisco, CA: Lionheart Publications, 1989
How To Fight Tough by Jack Dempsey
Boulder: Paladin Press, 2002 (reprint of 1942 edition)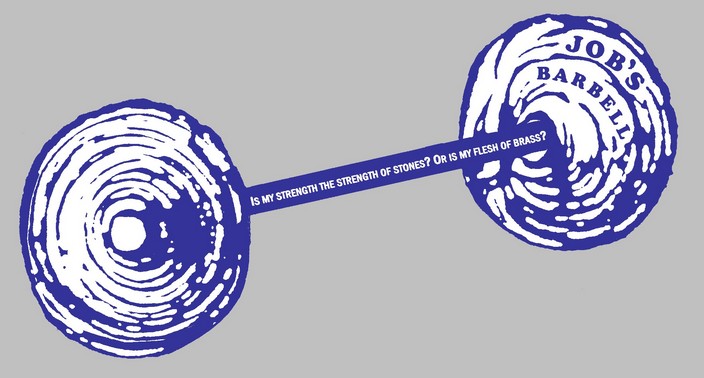 ---
HOME
Would my house were on the cliff
Of Suminoye!
I should be happy always watching
The white waves drawing near
To the shore of the open-sea.
--Anon.
Manyo Shu 1150, trans. by Arthur Waley, "Japanese Poetry: The Uta", 1919