Pelican Yoga
Organic System of Physical Culture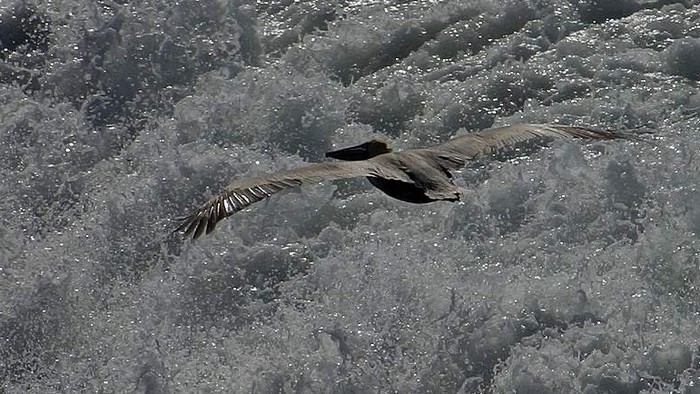 "I am like a pelican of the wilderness" -- Psalm 102:6
---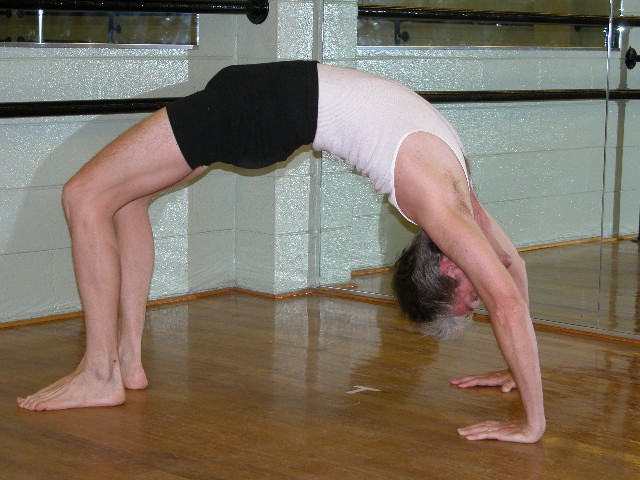 WHEEL: "For the spirit of the living creature was in the wheels" -- Ezekiel 1:21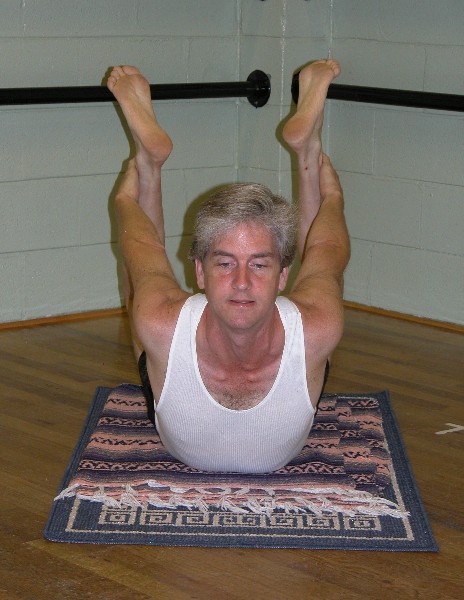 BOW: "And he bowed himself with all his might" -- Judges 16:30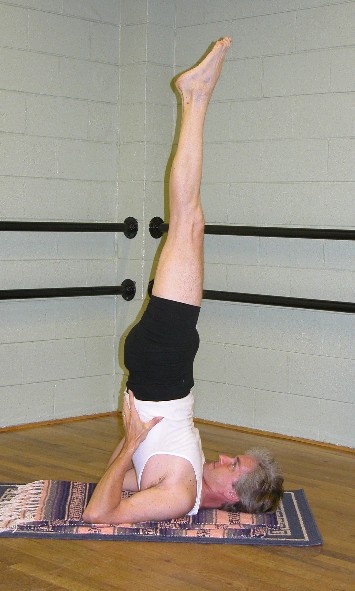 SHOULDER STAND: "And when he hath found it, he layeth it on his shoulders, rejoicing" -- Luke 15:5
Note: while in this supported position with your legs in the air is a
great time to move your legs in a "riding the bicycle" motion. Good
for your legs and for keeping your waistline in check.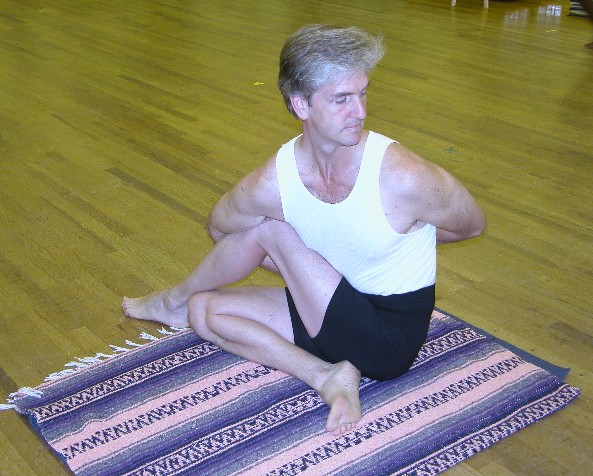 TWIST: "To turn them from darkness to light" -- Acts 26:18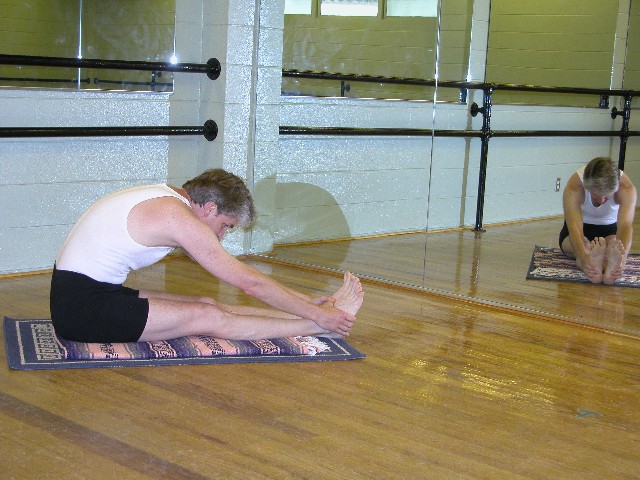 LEG STRETCH: "[He] stooped with his face to the earth, and bowed himself" -- 1 Samuel 24:8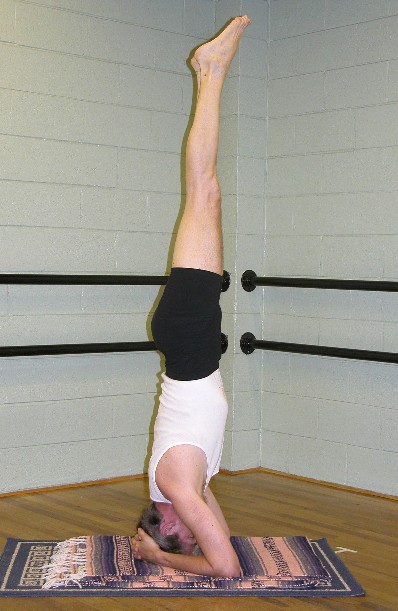 HEADSTAND: "For now we live, if ye stand fast in the Lord" -- 1 Thessalonians 3:8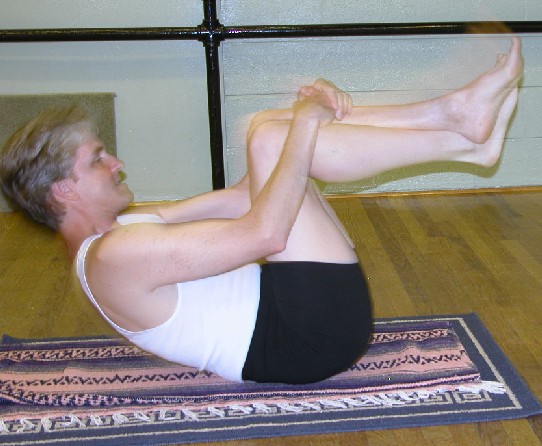 ROCKING: "Lead me to the rock that is higher than I" -- Psalm 61:2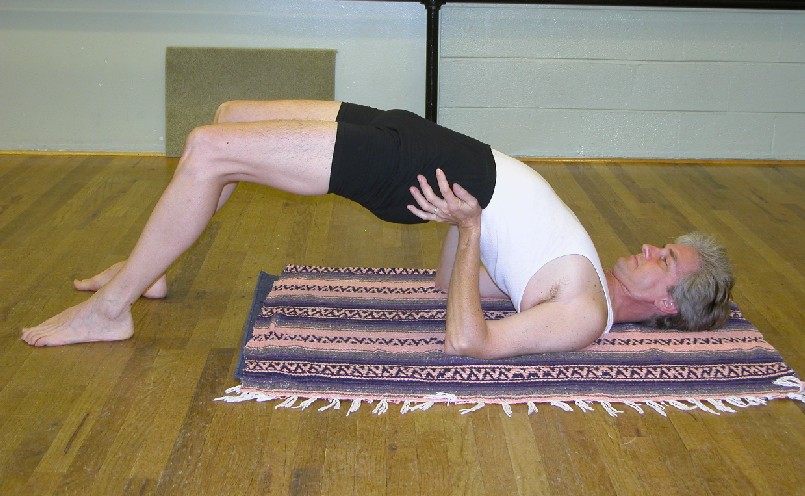 BRIDGE: "Yea, he shall be holden up: for God is able to make him stand" -- Romans 14:4
---
NIETZSCHE: "Lift up your hearts, my brothers, high, higher! And do not
forget your legs either. Lift up your legs too, you good dancers; and
better yet, stand on your heads!" -- Zarathustra IV:13:17
[Yoga photos by Margaret Foust. Pelican photo by Jon Sullivan. Postures by Ted Willi, July 2003]
Notes on a routine: After learning the individual postures, it is natural to combine movements, such as going from a Shoulder Stand into
a Bridge (or going from a Bridge back up into a Shoulder Stand), or doing a Leg Stretch followed by a Twist (left and right). A typical
routine might consist of:
Warm-up with Rocking on a padded surface.
Do a Leg Stretch / Do a Twist, left and right.
(Do this Leg Stretch / Twist combo 3 times.)
Do a Shoulder Stand and while in that position "ride the bicycle"
for a minute or two / Go into the Bridge position.
(Do this Shoulder Stand / Bicycle / Bridge combo 2 or 3 times.)
Do the Cat: while kneeling, hands on floor, arch your back and
suck in your gut (head drops). Relax and let your back round down
(head goes up). Do multiple times.
Do a Bow. (3 or 4 times)
Do a Wheel. (2 or 3 times)
Do a Leg Stretch to bring your spine back to normal after all the
Bridges, Bows and Wheels. Hold for a few minutes.
Finish with a Head Stand. Hold for a few minutes.
Relax like a Fallen Leaf, kneeling comfortably with torso resting
on legs, arms forward, head down. (Can also lie flat on back for awhile.)
Recommended reading on MOVEMENT (check your local library or used-book dealer):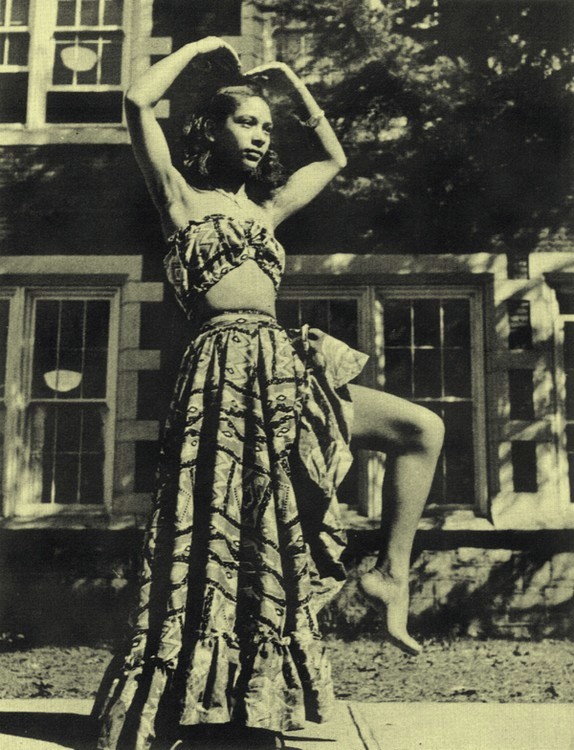 Dancer in physical education program, Carver Vocational School, Atlanta, Georgia, 1951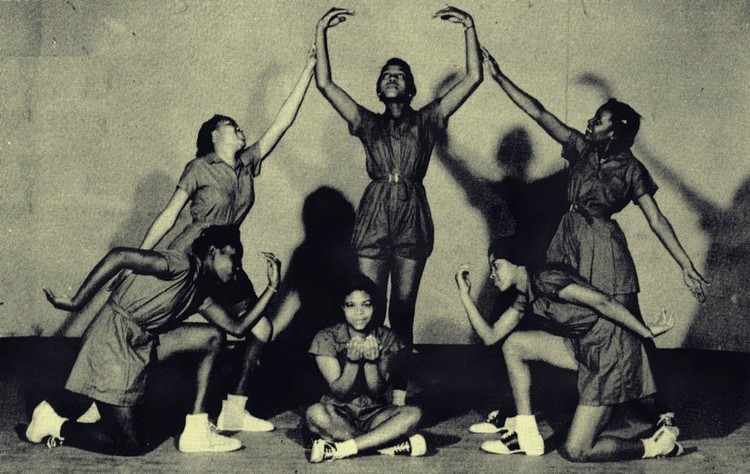 Dancers in physical education program, Carver Vocational School, Atlanta, Georgia, 1951 (from book below)
CRAFTSMAN: The 1951 Annual Yearbook of
CARVER VOCATIONAL SCHOOL
55 McDonough Blvd SE
Atlanta, Georgia 30315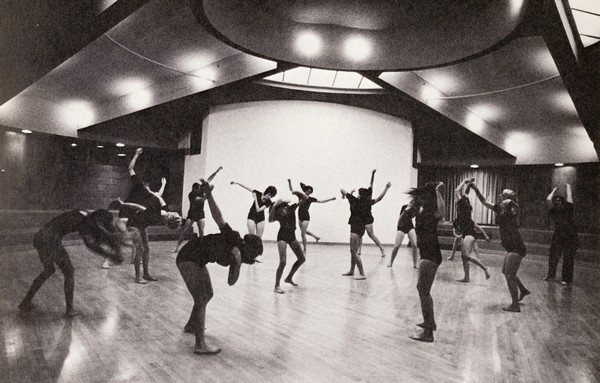 Barbara Mettler dancers doing swinging motions (from book below)
Basic Movement Exercises
by Barbara Mettler
Tucson: Mettler Studios, 1972
Publisher's address: 3131 N. Cherry Ave., Tucson, AZ 85719

Pelvic balance exercise on sawhorse (from book below)
Bonnie Prudden's Fitness Book
by Bonnie Prudden
NY: The Ronald Press Company, 1959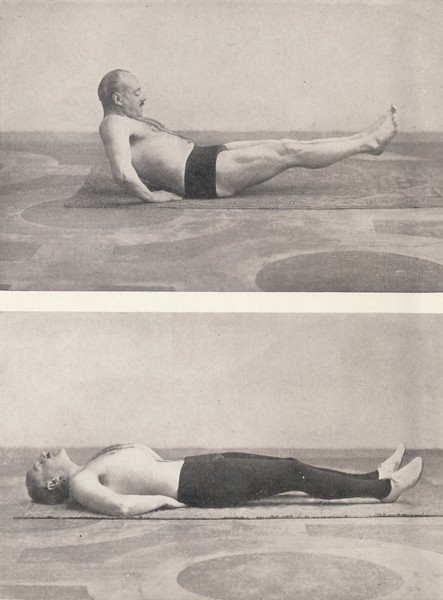 "Tensing and Retracting" abdomen exercise (from book below)
The Culture of the Abdomen
by F.A. Hornibrook
Garden City, NY: Doubleday, Doran & Co., 1933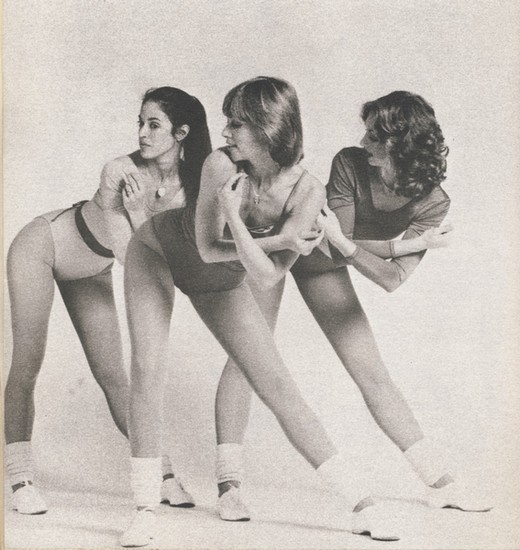 "Snappy Hips" movement (from book below)
The Broadway Workout
by Shelly Rann
NY: Dell Publishing Co., 1984
Yogic Asanas: for Health and Vigour
by V.G. Rele
Bombay: D.B. Taraporevala Sons & Co., 8th ed., 1963
Corrective Physical Education, 5th Ed.
by Josephine Langworthy Rathbone
Philadelphia: W.B. Saunders Company, 1954
Excellent section on System of Yoga (pdf).
Yoga for Physical Fitness
by Richard L. Hittleman
NJ: Prentice-Hall, 1972, 1964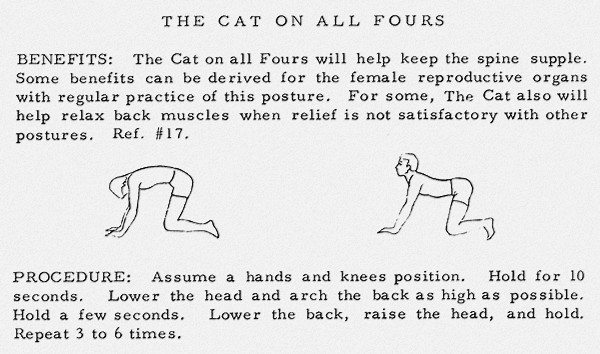 "The Cat" abdomen exercise (from book below)
Manual of Yoga Sessions
by Charles Schoelen
Fresno: Yoga of the Old Masters, Revised Ed., 1981
Publisher's address: 37851 Auberry Rd., Auberry, CA 93602
The Martial Artist's Way
by Glen Doyle
Boston: Charles E. Tuttle Co., 1999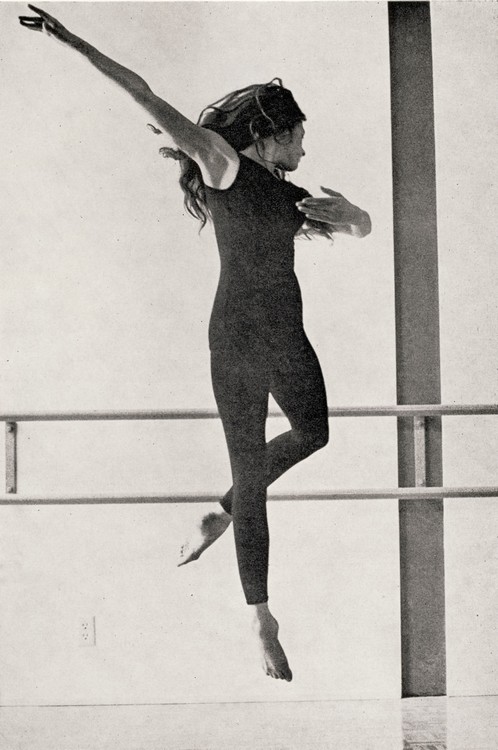 "Dancer Hopping" (from book below)
Body Ego Technique
by Jeri Salkin
Springfield, IL: Charles C. Thomas, Publisher, 1973
Also see applied to Belly Dance.
DANCE! Therapy for Dancers
by Beryl Dunn
London: Heinemann Health Books, 1974
Element: Ballet Conditioning [DVD]
featuring dancer Elise Gulan
Beverly Hills, CA: Anchor Bay Entertainment, 2007
Shall We Dance? (1996) [VHS]
Starring Koji Yakusho and Tamiyo Kusakari. Masayuki Suo, Director.
Santa Monica, CA: MIRAMAX, 1997
Sagnika Mukherjee: Fire, Passion and Penchant for Dancing
Dance Magazine
800-331-1750 (subscriptions)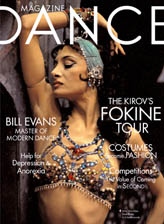 ---
HOME

Because river-fog
Hiding the mountain-base
Has risen,
The autumn mountain looks as
  though (it hung) in the sky.
--Kiyowara Fukuyaby
Shu-i 202, trans. by Arthur Waley, "Japanese Poetry: The Uta", 1919