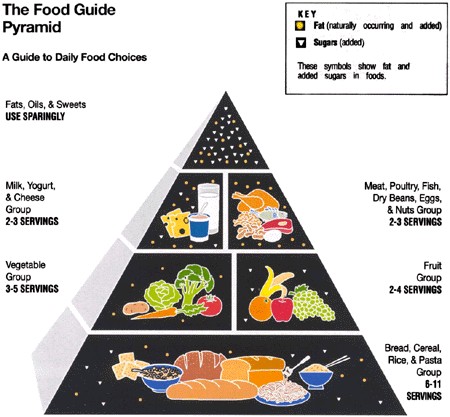 http://www.pueblo.gsa.gov/cic_text/food/food-pyramid/main.htm

Why is the USDA Food Pyramid our ideal? Because it doesn't lend itself to fads or fanaticism. It presents a full spectrum of foods with
the message of proportion: eat a balanced diet from the various food groups. This is not an Atkins meat and fat diet.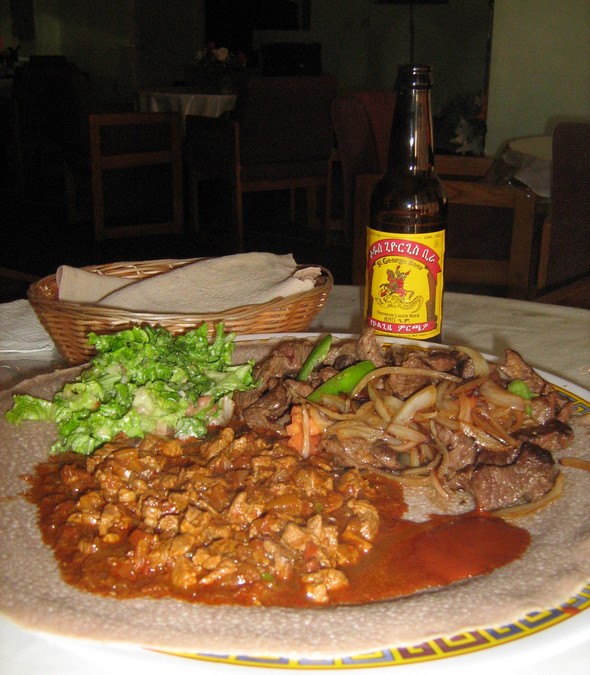 Two delicious varieties of tibs at Lalibela Cafe, Scottdale, Georgia
Every culture of the world has its favorite wholesome foods and when we travel it is great to sit down and enjoy a traditional meal with
our hosts. In Ethiopia, we might be invited to eat injera (spongy flat bread) with tibs (spicy chunks of meat) and salad. In Sardinia, we
might have pasta, fresh-roasted pig or lamb, and vegetables from the host's garden. In India, flat bread with chickpeas and vegetables,
yogurt, and mango juice. In Israel, delicious Kosher WILLI FOOD is sure to please: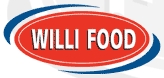 So, how is this a "Will-to-Power Diet"? It banishes the diet scamsters and opens you to the culinary bounty of the globe. (It's up to you
to make sure your food intake is proportionate to your energy expenditure.)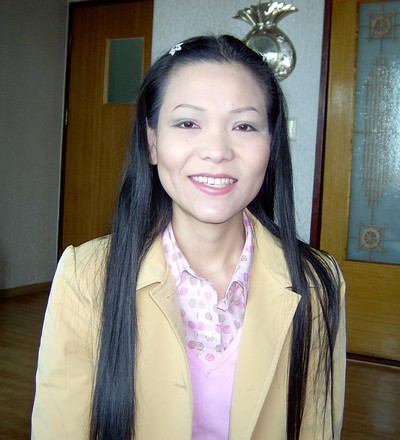 Sonya Thomas: "The Black Widow" of Competitive Eating
Sonya Thomas, a champion in the obscure sport of Competitive Eating, went from a weight of about 135 pounds, when she was working as a
typist, to a fighting weight of about 99 pounds today. She calculates that her stomach can hold 18 pounds of food and liquids. She recovers
very quickly from her competitive binges, maintaining her trim figure. She usually eats only one large meal a day. She seemingly breaks
all the rules of the diet gurus, but her overall food intake is proportionate to her energy expenditure so she maintains an ideal
weight. Visit her website and read her fascinating FAQ.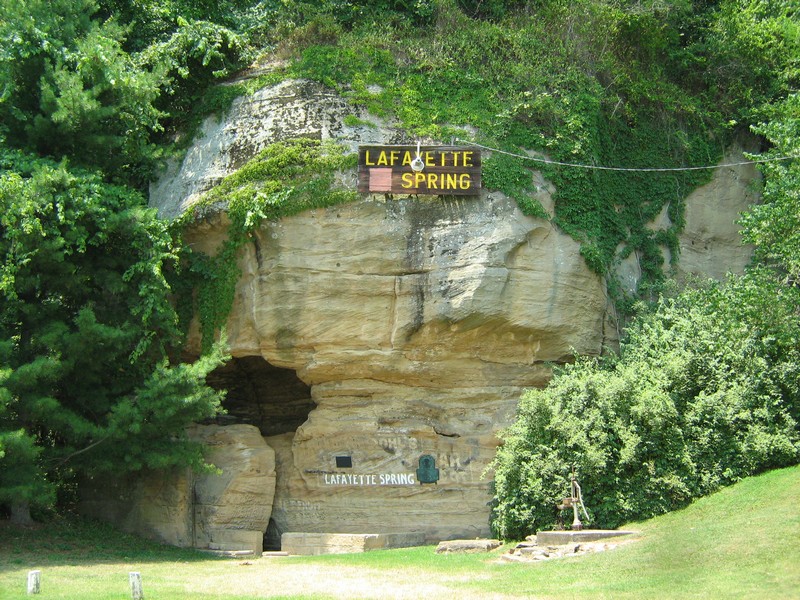 Lafayette Spring, Indiana, by the Ohio River
Remember to drink plenty of water between meals and to replenish from exercise. Also support your local dairy farmer by drinking
MILK for protein and calcium. For vitamins, try Swanson (800-437-4148); for bulk herbs and tea, Starwest Botanicals (800-800-4372);
and for CHICORY, Leroux of France which sells chicory to New Orleans' coffee roasters like Cafe Du Monde (800-772-2927),
Community Coffee (800-884-5282), French Market & Luzianne (800-692-7895) and, in Tampa, Naviera Coffee Mills (800-531-9587).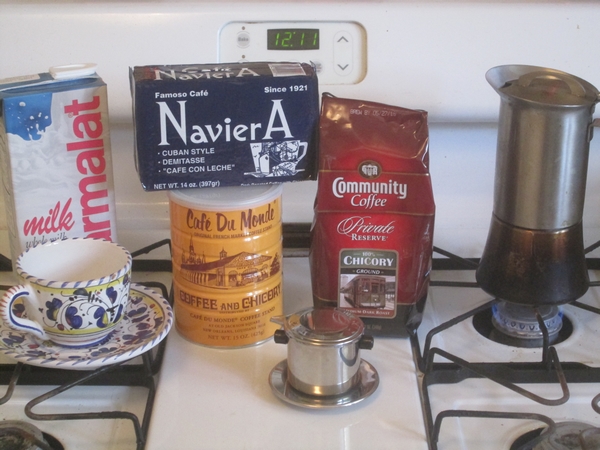 Some varieties of Chicory and Coffee
Read about the risks of microwave cooking at www.health-science.com/microwave_hazards.html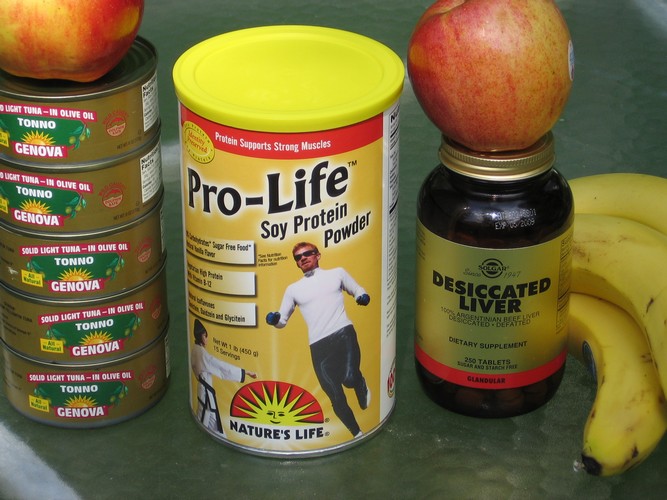 Fortifying Frosty (blender drink)
1 1/2 cups milk + or -
1 egg (or scoop of protein powder)
1 medium banana (frozen)
2-3 Tablespoons Quik (or 1-2 Tablespoons honey)
Bake some bread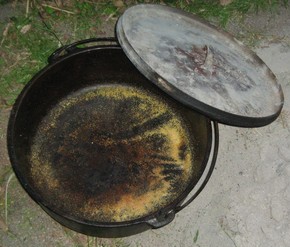 Beautiful rustic loaf baked in 12-inch Dutch oven
We discovered that when cooking-out with a charcoal grill, after grilling the meats, etc., the coals are still plenty hot, so we
started baking bread with the leftover coals. Get the dough ready ahead of time and it can be rising while the grilling is being done.
A good one-rise recipe like James Beard's "French-Style Bread" works well (Beard on Bread; NY: Alfred A. Knopf, 1974).
Roughly, we used 1/3 of a nine-pound bag of charcoal to grill. When the grilling was done, we took the once-risen dough and shaped it
into a round loaf and placed it into the Dutch oven which had been sprinkled with corn meal. Using a small shovel, we arranged about 1/3
of the hot coals on the ground, placed the Dutch oven over them, and then shoveled the remaining 2/3 of the coals onto the lid. Baking
took 30 minutes to arrive at the loaf pictured here.
Tips culled from "Multi-Fitness"
(Multi-Fitness by John Howard et al; NY: Macmillan, 1985)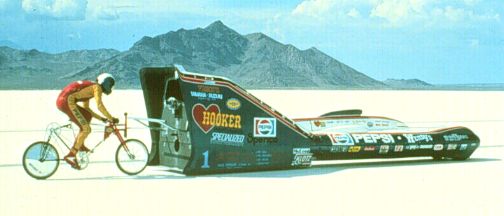 Olympic cyclist and Ironman Triathion champion John Howard set the world speed record for bicycles:
152.2 mph on the Bonneville Salt Flats, July 20, 1985
"If you get an adequate amount of exercise every week and devote a little care to choosing the foods you eat, you will be able to eat
more than you would on any diet and still lose that excess fat. And it will stay off."
"We need food to get essential nutrients and to replenish energy lost in our activities, and for no other reason. We all should
keep that thought in mind at mealtimes, so that we eat the right things for the right reasons."
"People need sufficient complex carbohydrates (60-80 percent of daily intake), protein (12-18 percent), and fats (5-20 percent) to
keep the body functioning and in good repair. A day's menu should include adequate amounts of vitamins and trace minerals, as well
as all the essential amino acids and plenty of water. Most Americans consume too much fat and protein, and the carbohydrates
they take in are more likely to be simple (sugar) than complex (potatoes, pasta, rice)."
"The more active you become, the more you will raise your resting metabolic rate, which means you can burn more calories resting,
sleeping, or reading this book once you raise your activity level. If you are fat, you don't need to eat less; you need to exercise more."
"When you pursue more than one sport you have more social opportunities and more varied interests. Different activities make
different demands on our bodies and our psyches; multi-fitness allows people to develop different aspects of their personalities.
The body and mind are more integrated; the psychological benefits of multi-fitness are equivalent and parallel to the physical benefits."
Recommended reading on DIET (check your local library or used-book dealer):
Eating for Endurance by Ellen Coleman
Palo Alto: Bull Pub. Co., 1992
The Bodybuilder's Nutrition Book by Dr. Franco Columbu
Chicago: Contemporary Books, 1985
Multi-Fitness
by John Howard, Albert Gross, Christian Paul
NY: Macmillan, 1985
Taste of Eritrea
by Olivia Warren
NY: Hippocrene Books, 2000
Beard On Bread
by James Beard
NY: Alfred A. Knopf, 1974
Bull Cook and Authentic Historical Recipes and Practices
by George Leonard Herter
Waseca, MN: Herter's Inc., 1969
Slow & Easy: Fast-Fix Recipes for Your Electric Slow Cooker
by Natalie Haughton
Hoboken, NJ: John Wiley & Sons, 2009
Casablanca Cuisine
by Aline Benayoun
London: Serif, 1998
---
HOME

On the moor of Kasuga
The rising of smoke is visible.
The women surely
Must have plucked lettuces on the
  spring moor and must be boiling
  them.
--Hitomaro
Manyo Shu 1879, trans. by Arthur Waley, "Japanese Poetry: The Uta", 1919