The Great DRW Maze Trip

Stanford, CA - Saturday, September 23rd, 2:00pm Some final thoughts now that the trip has concluded: I've always loved to travel and the tight schedule that I had on this trip made me realize why. Getting away from your usual surroundings and schedule is part of it, but seeing many new places and having lots of new experiences in a short time (while also a lot of fun) allows you to transcend the experiences and reflect on them from the outside. It's sort of like how Amy was telling me about a famous social psychology experiment, the Stanford Prison Experiment, which showed in startling fashion how quickly people can be caught up in the Power of the Situation and manipulated into doing things that they would not otherwise do. Being aware of how easily influenced we are by our environment allows us to step out of the situation and wield the Power of the Individual. Here endeth the lesson.

"The Power of the Individual"
Invictus, one of my favorite pieces of poetry, is an ode to the power of the individual.
Book-reading report: There wasn't a lot of time for reading but I managed to get part way into The Perfect Storm and Shadow Star after rejecting the undistinguished Ethan of Athos. Once I got to Pembroke Pines, the World's Greatest Mom took me over to visit their new library where I picked up and immediately took to My Brain is Open, an account of the life one of the world most prolific and eccentric mathematicians, Paul Erdos. It's so good that it has immediately gone to the top of my reading stack.
Thank You notes: I hereby issue a big "Thank You" of gratitude to all the people who helped to make this trip such a success: Secret Agent Jill for being a good host and a first-rate accomplice in the maze adventure and for letting me stay at her place, Mark and Helen for letting Jill let me stay at her place, Gregor for letting me play his Pod Racer game, Kai for being the Human Alarm Clock, Rachel for navigating through the treacherous traffic of Friday afternoon Charlotte, Dana for getting us seated and served at her restaurant ahead of schedule, the people at Cracker Barrel for renting books on tape and serving complete meals that cost only 6 dollars and 92 cents, Amy for taking me around Gainesville and treating me to dinner, Derrick for the strawberry shortcake Good Humor bar, Sushi for not biting me, Mr. Vinay for helping me find the last place to eat in Melbourne before everything closes at 10pm, all the truckers out there who moved to the side to let me pass, and Ma and Pa Walker for putting me up for the last few days. Thanks again to everyone.

Trip Statistics
Total Mazes Conquered: 1
Total Miles Driven: 1387


---
Pembroke Pines, FL - Wednesday, September 20th, 11:45pm After the Space Center diversion, the remainder of the day returned to the expected course: a little billiards action in Melbourne, a mad dash to find a restaurant to eat at before they all closed, and a few more hours of driving to get me back to the Walker Compound here in South Florida.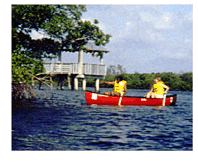 On Tuesday, Big Daddy-o and I took a ride over to West Lake Park where we rented a canoe and valiantly paddled all the way around West Lake in spite of the oppressive heat.
---
Melbourne, FL - Monday, Setptember 18th, 6:32pm Monday greeted me with far better weather while treating my windshield to far more love bugs. I made it to the east coast of Florida pretty early in the afternoon and since I didn't have anything planned until the evening, I decided to pay a visit to the Kennedy Space Center. In recounting this visit, let me get the single glaring problem out of the way first: the wait to get on the buses is horrendously long. Of the three hours I spent there, two of them were consumed by waiting to get on the tour bus at various locations. If it were possible to avoid these delays, it would be a good, probably great way to spend a day. Here were the high points of my abbreviated stay: the anticipation as I drove across the bridge and up to the visitor complex, the view of the Space Shuttle on the pad from the observation tower, the parts of the bus tour where I was actually on the bus and it was moving, and the technical briefing on the Shuttle at the Launch Status Center.
---
Melbourne, FL - Monday, September 18th, 6:30pm (or what I would have written if I had had time to track down a terminal) After driving for hours through rain and traffic and winds gusting up to 40 mph on Sunday, Monday was quite easy. But first Sunday: I arrived in Gainesville far behind schedule, allowing only time for a quick but pleasant visit with Amy and a whirlwind tour of the University of Florida. I drove south on I-75 for twenty or thirty miles that night until I tired of the winds slapping my car around, so I got off the highway and checked into the only available hotel. Upon registering I was given a room key and a remote control for the room's TV. After examining the room, the following rule of thumb occurred to me: When the guy at the front desk gives you your room's remote control, you know you've checked into a flophouse.
---
Gainesville, FL - Sunday, September 17th, 8:45pm National Weather Service advisory:
Gordon is currently 100 miles north of Tampa and moving NNE at 14 mph. DRW is located 40 miles north of Ocala and moving SSE at 70 mph. The National Weather Service recommends that all affected areas put up their shutters and stay inside.
---


Asheville, NC - Saturday, September 16th, 2:30pm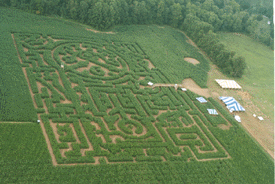 The maze was a blast. We made great time in driving there and were quite impressed by the appearance of the maze - from the outside it looks like a well-groomed filed of corn, but with flags sticking up above the top of the stalks and moving around amusingly as the people carrying them tried to find their way out. The maze was designed well, causing us to explore it basically in its entirety before finding our way out. Aside from the occasional disorientation, the trickiest elements of the maze were things that may or may not have been deliberate: for example, the colored tape that tells you which subsection of the maze you are in (like clock, clock face, and pendulum) was the wrong color, making us think that the critical globe section was much larger and much farther east than it actually was. Overall though, it was a lot of fun and something I would definitely do again.

Today, I accompanied Jill as she taught the first of her Super Saturday educational programs for kids. I was intrigued by the Edible Plants hike in which we strolled along a local creek and ate whatever plants we could identify as non-lethal.
---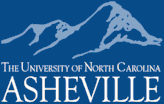 Asheville, NC - Friday, September 15th, 10:15am Despite a few weather delays, I made it to the East Coast, successfully upgraded from the power-steering-less Geo Metro to the more spacious Chevy Cavalier, and drove all the way to my rendezvous with Special Agent Jill at UNCA around 2:30 in the morning. Even as I type, Jill is finishing her covert Spanish training, after which we will make our way, accompanied by another agent recruited by Jill, to execute Operation Labyrinth.
---
Menlo Park, CA - Thursday, September 14th, 9:30am Everything is in readiness: the pumps are primed, and the reservations are set. Ready or not, San Francisco Airport, here I come!