RENDELL FREDERICK SCHULTHIES
by:  Beatrice Parkin Schulthies

Rendell Frederick Schulthies, the eldest child of Rendell Howard Schulthies and Beatrice Parkin having four brothers and one sister, was born in South Bountiful, Davis County, Utah in his Great Grandmother Parkin's home, where his parents rented the two south rooms.  Dr. Hunter was the doctor.  He learned both to walk and talk when one year old. 
When he was about 1 ½ years old, he moved with his parents to the old Carlos place across from Amasa Howard's in South Bountiful.  When his brother, Norman, was born he was very jealous and wanted Vena Howard to take the baby home with her. 
He had a little automobile that he pumped all around the yard and an Indian suit he liked to wear. 
Glenn and Rulon Howard lived across the street and one day while Fred was playing with them, Glenn and Rulon, who was older than Fred, started a fire in the hay stack and burned up all the hay.  When Fred was five years, he moved to the old Salter home, just a little ways north on the same street.  Here they only lived about three months and then moved to West Bountiful, where his parents had purchased the red brick home above the Union Pacific tracks from Mont Holbrook. 
He started school in West Bountiful.  Miss Naylor was his first teacher, other teachers were Leone Argyle and Mr. D.G. Winn.  He went with his parents and two younger brothers to Kansas and Missouri in their Ford car.  He weeded onions and other farm crops, topped onions and cut asparagus.  Some of his pals were:  Melvin Ware, Max Holbrook, Dick Nelson. 
He went to Yellowstone Park with his parents and three younger brothers and Uncle Avon in about 1936.  The family went to Wasatch every summer and stayed overnight in the cabin owned by his Great Grandfather Howard's sheep company.  They also had Howard reunions up in the timbers where they all had a good time.  He had mumps and was very, very sick and couldn't get in the sun the rest of the summer. 
He and his brother, Norman, went to Wendell, Idaho on the train to see their cousin, Wesley Winegar, who met them at the depot on a horse which they all rode to Wesley's home.  When they returned home, they had a new red bicycle for their birthday.  He went to Bountiful Junior High and then to Davis High at Kaysville, Utah. 
One summer, Fred and his brother, Norman, raised pheasants for the State.  They also had a beautiful golden pheasant of their own. 
Aug. 1939.  When Fred was 17, his father bought a Whippet coupe automobile the night before.  Fred went down to the field below the D.&R.G. railroad tracks to unload a cultivator.  All of his brothers were with him, some riding in the trunk, but Hal and Byron got out at the school house and went to hunt a job topping onions.  Norman and Karl went on with him.  They had unloaded the cultivator and was coming over the tracks when the engine died.  The train hit the car.  They were all throwed out of the car.  Fred was thrown onto the cattle guards.  He was hurt and cut pretty bad.  Had a fractured skull, broken shoulders, head and face cut very bad.  Dave Holbrook took him to the doctor office in his car.  His father broke all speed records getting home from work when he heard.  Dr. Christenson sewed his head up after Fred's father had helped the doctor dig the gravel out.  They didn't set his bones, but brought him home.  We called for Bishop Samuel C. Howard to come and administer.  He came and promised that Fred would get well.  Dr. Trowbridge was then called and came every few hours expecting each time to find that Fred had passed away.  He was unconscious for days.  They finally took him to the doctor office on a stretcher and set his bones.  He was in bed six weeks and was watched over by his parents night and day.  His Grandmother Parkin came and helped care for him, although she was just getting around again after having a broken hip.  Through faith and prayers and administering, he recovered and although he missed a lot of his senior year, he graduated.  But the scar on his cheek spoiled the pretty dimple he used to have.  He graduated from Seminary. 
He worked at Modern Motors.  In auto mechanics at school he built over an old Dodge car into a tractor that was used a lot on the farm.  He also made a bench, flower box, shoe shine stand.  He went to the University of Utah for one year and then hired out as a Fireman on the D.&R.G. Railroad.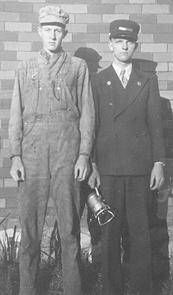 In 1940 he and his brother, Norman, went with their parents to the Golden Gate International Exposition at San Francisco, California.  The Army turned him down after he had been deferred several times by the railroad because of ulcers. 
Just before Fred and Donna were married, we had a shower for them with most of the relatives attending.  They moved into one of the cabins at Dreamland.  Fred's grandparents, owners of the cabins, gave them their first month's rent free.  When Fred's parents moved on an 80-acre farm at Fruitland, Idaho in March 1947, they rented his parents new brick home in West Bountiful.  It was while living here their first child, Linda, was born.  Later, they moved back to Dreamland, then lived in Centerville for a short time, then back to Dreamland in the front of the duplex and then to Val Verda where they built a basement home.  It was here they were living when Don, Debra and Sandra was born.  Shelley was the 5th and last child born to them.  Then they moved to Grand Junction, Colorado where they purchased a 40-acre farm.  Fred is working from Grand Junction to Helper, Utah as a Fireman.  He is supervisor over the Ward Teachers in Fruita Ward, secretary of 3rd Elders Quorum, Grand Junction and Fruita, Colorado, President of 5th Elders Quorum, Fruita, Colorado.    
[Rendell Frederick Schulthies passed away 17 March 2009 in Bountiful, Utah and was buried 21 March 2009 in the Bountiful City Cemetary.] 
Rendell Frederick Schulthies Eulogy
21 March 2009
by:  Celia Schulthies Darnell, sister
Rendell Frederick Schulthies, otherwise known as "teddy bear" to his brothers and sister, eldest son of Rendell Howard Schulthies and Beatrice Parkin Schulthies, was born in South Bountiful at his great grandparents' home on July 26, 1922. 
By the time he was one year old, he could walk and talk, according to the history his mother wrote.  A year after he could walk and talk, his little brother Norman was born, and he became very jealous and told Vena Howard to take the baby home.
When he was about five years old he and his family moved to West Bountiful where he learned the art of growing good onions on Onion Street, which is now 8th West.
He attended Bountiful Jr. High and Davis High School.  He then spent a year at the University of Utah before becoming a steam engine fireman on the Denver and Rio Grande Railway.
He married Donna Alice Griffith on June 16, 1944 in the Salt Lake Temple and five  beautiful children became their happy lot.  Fred was an active member of the Church, holding many positions and always helping those in need.
He moved his family to the Grand Junction, CO area on a 40-acre farm, growing some of the best sugar beets and onions in the country.  He also grew tomatoes for Kuners Cannery, all the while working as an engineer on the railroad running from Grand Junction to Helper, UT.  He thus became known among his workmates as "Fast Freddy" because he always tried to keep his train on time.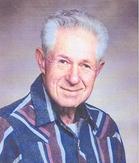 As Fred got closer to retirement from the railroad, he and his family moved back to their home in Val Verda, where his run as an engineer was out of Salt Lake on the Amtrack passenger train.
After the passing of Donna in 1989, Fred married Frine Rubelcava on September 5th, 1998 in the Bountiful Temple and they have had ten good years together.
I remember Fred's blue eyes—how they would twinkle and his cute smile – as he would tell us stories.  I'll always be thankful to Fred for the help he has given me over the years—all the fruits and veggies, and all the monthly airport trips he provided, for taking such good care of mother over many years, and for just being the patriarch of our family since 1966 after the passing of our father. 
Fred is survived by his wife, Frine.  His children:  Linda Schulthies Berg Hogge (Tom), Don Frederick Schulthies (Rosanne), Debra Schulthies Kolts (Lee), Sandra Schulthies, and Shelley Schulthies Preece (Craig); 22 grandchildren and 13 great grandchildren.  Brothers:  Hal (Genevieve), Byron (JoAnn), and Karl (Ruby) Schulthies and sister Celia Darnell (Don).
We'll miss you, Teddy Bear!