HAL PARKIN SCHULTHIES
by:  Beatrice Parkin Schulthies

Hal Parkin Schulthies, the third child of Rendell Howard Schulthies and Beatrice Parkin, and having two older and two younger brothers, and a sister:  Frederick, Norman, Byron, Karl and Celia, was born at South Bountiful, Utah, at the home of his Grandfather and Grandmother Schulthies.  Dr. Hunter was the doctor.  At the time, his parents were living in the old Carlos place across the street from Amasa Howard's in South Bountiful.  He developed rickets, but with cod liver oil, orange juice, raw milk and sunshine, he recovered, and he didn't ever have any of the children's diseases.  He crawled out in the yard in the dirt, foxtails, and sunshine.  Had light brown, curly hair and brown eyes. 
When he was about 1 ½ years old, he moved with his parents to the old Salter home, just a little ways north on the same street.  They only lived here about three months, spending Christmas here.  He then moved to West Bountiful where his parents purchased the brick home above the Union Pacific tracks from Mont Holbrook. 
When two years old, he went with his parents and two older brothers to Kansas and Missouri to visit relatives. 
He went to school in West Bountiful.  When his brother, Byron, was born he wasn't yet five years old and his Grandmother Parkin was taking care of his mother and new baby brother, Hal came up missing and was not to be found anywhere.  Finally, his Grandmother called his Grandfather on the phone and found out that he had walked more than two miles over to where his Grandparents lived.  He had on an old coat, stocking cap and overshoes.  When his Grandfather asked him why he was dressed like that, Hal said, "I thought it might rain before I got here."  It was about the middle of June and a hot, sunshiny day.  Another time, Hal dragged two wheels from an old wagon a long ways up in the field to where his Grandfather was working.  When his Grandfather asked why he dragged those wheels all that way, Hal said, "You didn't think I was going to walk, did you?"
He went to school in West Bountiful.  Helped grow onions and truck-garden vegetables.  But instead of working all the time, he liked to sit and make grasshoppers fight! 
He went to Yellowstone Park with his parents, two older and one younger brother, and his Uncle Avon about 1936.  Every summer, he went with his family to Wasatch where his Great Grandfather Howard had a sheep ranch and cabin.  Sometimes, they went to the Timbers for Howard reunions.  When he was about 16 years old, he went with his parents and younger brother, Byron, to Boston to see his Uncle Avon, who was serving in World War II and stationed at Boston.  They went by train, saw New York City and many other places of interest. 
He attended West Bountiful School from the first to sixth grade.  One of his teachers was Beth Hatch.  He went to Bountiful Jr. High and Davis High, graduating from Seminary, as well as high school.  He gave a very good Seminary talk on the Word of Wisdom.  His Seminary teacher was George C. Ensign.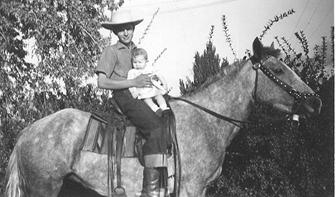 When a small boy, his Grandmother Parkin gave him a cowboy hat and boots and from then on he wanted to be a cowboy.  He even wore cowboy boots and shirts to high school and always liked horses.  He and his brother, Norman, took the parts of bees in a Primary play of which we took snapshots. 
He worked for Modern Motors.  Later, hired out as a driver for the Rio Grande Motorways. 

He enlised in the Coast Guard in August 1944 and left Salt Lake City 31 August 1944 before his 18th birthday.  First he was sent to New York, arriving there 3 September 1944; finished Boot Camp 30 October 1944; visited Empire State Building, Statue of Liberty, Central Park, Times Square and others.  Left New York 1 November 1944; arrived in New Orleans 3 November 1944.  On 15 December 1944, his rate was changed from Stewards Mate to Fireman and he was assigned to the U.S.S. Alexander P.F.18.  They took the ship to the Gulf of Mexico to try it out.  The ship could hold 213,742 gallons of fuel oil.  On 19 March they left for Cuba, Guantanamo Bay, where they practiced locating and hitting submarines.  While around Cuba, they saw lots of sharks.  Arrived in Norfolk, Virginia 23 April 1945. 
Hal came home on furlough and married Connie Parkhurst 16 October 1945.  He had another furlough and his brother, Norman, sent him money to fly home.  Norman also took him to California to see his wife, Connie. 
While the two brothers were talking, they learned that it was their ships that nearly collided on the ocean, when Norman was coming home from the war in Europe.  Neither brother knew the other was on the other ship. 
When he returned from the service, they lived a short time in California and then at New Plymouth, Idaho for a short time.  It was while living here their first child, Sharon, was born at the hospital in Ontario, Oregon 5 October 1946.  They moved back to Bountiful, Utah and lived in one of the cabins at Dreamland, of which his Grandfather Parkin was owner. 
Hal worked at Wasatch Oil Refinery.  Their second child, Brenda, was born 3 October 1947 and son, Randy, 6 November 1949.  They were divorced and Connie took the children to California. 


Hal married Claudeen Louise Sly in the Salt Lake Temple 2 March 1951.  They lived for a short time in a basement apartment in Bountiful.  Then, for another short time, below the Bamberger tracks west of Bountiful Jr. High School.  They then bought a home and 13 acres in West Bountiful from Howard Stahle.  Here they lived several years, Hal working at Sure Seal. 
The spring of 1953, Hal moved to Nampa, Idaho and worked for Cache Valley Breeding Association.  Lived in tenant house.  About the spring of 1957, Hal purchased a home and 40 acres in Fruita, Colorado, quit his job at Sure Seal, and hired out at Gilsonite Refinery in Colorado.  He sold his home and 13 acres in West Bountiful, Utah to his brother, Byron, and moved to Fruita, Colorado.  Here he grew sugar beets, beans and other crops, as well as working at Gilsonite.  He had an operation for appendicitis. 
Hal still had an interest in horses and raised them.  One, he sold for $1000.00.  While training one of his horses, something flew up and hit him in the eye, causing serious trouble.  He went to the hospital in Fruita and they had to operate.  Then, later, went to Salt Lake for another operation and several operations after that, hoping each time that his sight would be restored.  Finally, his doctor told him that nothing more could be done, so his eye was removed and he is now wearing an artificial eye.  However, he sees very well with his one eye and as far as others can tell, it doesn't seem to be too much of a handicap for Hal.  This I am thankful for. 
It seemed that Claudeen was not able to have children, so after having quite a number of miscarriages, on the 5th of June 1959, they adopted a month-old baby girl, making a trip to Denver, Colorado to get her.  They named her Shauna Jean and had her sealed to them in the Salt Lake Temple at the same time Hal's youngest brother, Karl, was married 2 September 1960.  All his brothers and their wives and his parents were present to see her sealed to them.  What a wonderful event this was! 
On the 20th of June 1961, they adopted a second child, making a trip this time to Durango, Colorado for the baby.  This baby was a boy and about six-weeks old and they named him Shane Sly.  On 18 October 1968, they adopted a boy they named Rod Parkin Schulthies, who was born 12 October 1968 in Salt Lake City, Utah.  Three lovely children that are bringing much happiness to both Hal and Claudeen.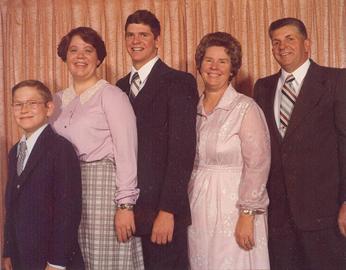 Rod, Shauna, Shane, Claudeen & Hal Schulthies
Hal, at present, is Secretary of the Elders in Fruita Ward.  He also held the position of Sunday School Superintendent.  One of the greatest desires of my heart is to see my children taking an active part in the Church. 
[Hal was sustained Branch President of Elberta, Utah Branch and set apart 12 September 1965 by Pres. Karl A. Patten.  Claudeen passed away 26 October 2001 and was buried in the Bountiful Cemetery.  Hal married Genevieve Cook Johnson on 3 May 2002.]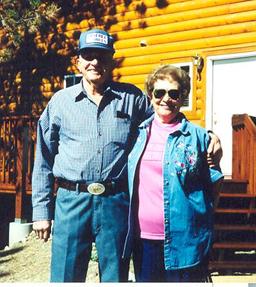 Hal & Genevieve - August 2002