BYRON SHELTON SCHULTHIES
by:  Beatrice Parkin Schulthies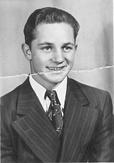 Byron Shelton Schulthies was the fourth child of Rendell Howard Schulthies and Beatrice Parkin, having three older and one younger brother:  Frederick, Norman, Hal, and Karl and one sister, Celia.  He was born 7 June 1931 in the dining room of the old, brick house in West Bountiful, Utah.  Dr. Allison was the doctor. 
He learned to walk when about one-year old.  He played with Mickey Jackson, a neighbor boy and one time Mickey gave Byron a whistle for his birthday.  Right after that, Mickey came down with mumps and, consequently, Byron got them, too, and gave them to his oldest brother, Frederick, who became very seriously sick with mumps. 
One day his brother, Norman, was chopping wood and Byron got in the way.  The axe came down on his toe, crushing and bruising it very bad.  Dr. Trowbridge was called.  He bandaged it up and soaked it in alcohol and gave him paregoric for pain.  We kept the bandage wet night and day for nearly a week and when the bandage was removed, it was almost well. 
When five years old, he went to Yellowstone Park with his parents and three older brothers and Uncle Avon. 
When a small boy, Byron went up to Jacksons one Sunday to play with Mickey.  Mr. Jackson asked Byron if he would like to go to a show with Mickey.  Byron said, "No we don't go to shows on Sunday."  Mr. Jackson said, "That's right, Byron.  Mickey, you can't go either." 
He attended Relief Society with his mother and was very well behaved.  Santa brought him a desk, little chair, and telephone for his 5th Christmas, which no doubt helped him to become interested in the work he chose in future years.  He also had a cowboy suit, tricycle, and bicycle.  He attended West Bountiful School from the 1st to 6th grades.  Some of his teachers were:  Afton Hatch, Mrs. Balderson, and Mr. Trowbridge.  He went to Boston with his parents and brother Hal to see his Uncle Avon, who was serving in World War II.  He saw New York City and many other places of interest.  He was about 12 when his brother, Norman, left for service in the Army.  His oldest brother, Frederick, married June 14, 1944 and his brother, Hal, enlisted in the Coast Guard in August 1944.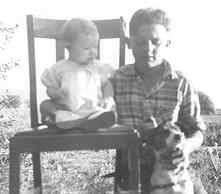 He went to Bountiful Jr. High and played the trumpet in the band.  Mr. Liston was the band teacher.  When in the 8th grade, was offered the chance to get in Salt Lake Jr. Symphony, but Mr. Liston advised him to wait till he had completed a year or two of high school.  He was drum major.  They played in the parade in Ogden, Utah on 24 July.  He played a solo on graduation night at Jr. High by memory and he always thought he played it better than any solo before or after.  He bought his own trumpet from Elwin Wright for $29 with money he had earned topping onions for neighbors. 
He moved with his parents when they sold the old home about 1 November 1944 into a little three-room, rented house owned by Phylis Hatch, which was only about a mile west and north of the old house.  They lived here six months.  He and his brother, Karl, cut asparagus in the spring every morning before going to school and every night.  Then Paul Buys bought the house and they were forced to move into the basement of their unfinished new home on the old Roberts corner in West Bountiful.  Here he helped his parents and brother, Karl, cut asparagus and bunch and wash garden vegetables for market. 
His brother, Hal, came home on furlough and was married 16 October 1945 to Constance Parkhurst.  The war ended and his brother, Norman, returned home from Europe just before Christmas 1946. 
He completed his sophomore year at Davis High, played on basketball and football teams and also was on track team. 
He worked for a short time at the bowling alley as pin boy.  Then moved to Fruitland, Idaho in the spring of 1947.  He finished his school work a couple of weeks early so as to help on the 80-acre farm, which his parents had purchased.  Here he milked cows, hauled hay, hoed beets and corn, fed pigs, etc.  He also went hunting pheasants and ducks with their dog, Porky, and his younger brother, Karl. 
He went to Fruitland High as a Junior and Senior.  As a Junior, was on first five and won second or third place in State and as Senior, they won second or third place in State, but he got mad at coach and dropped out before District and State finals.  Was Student Body President and graduated 20 May 1949.  He continued to play his trumpet and was in the Honor Band.  They played in Portland, Oregon and various places in Idaho.  Mr. Stoner was his teacher.  His parents traded his old trumpet  in on a new cornet for him.  He helped get the first year book that Fruitland High had in many years.  He was on the F.F.A. Dairy Team that won first in the State at Moscow, Idaho and went to Waterloo for National, but he had started school at Nampa Business College and Bud Shaw went in his place. 
He was a member in a boys' quartet with Lawrence Limbaugh, Stanley Bray, Henry (?).  They sang over K.S.R.V. Radio. 
He went steady with Odessa Smith, a neighbor, and converted her to Mormonism, but later they broke up. 
He was on the basketball team and hurt his back while playing tackle in football.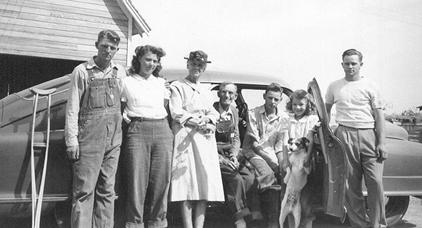 He went to Nampa Business College in fall of 1949 and winter of 1950.  He drove the Model A Ford, meeting his father half-way and changing cars and drove the V8.  This way they went through the winter:  Byron going to school at Nampa and his father working on the railroad at Nampa, as well as running the 80 acres and milking cows.  He graduated with a diploma in less than six months with an "A" average in all subjects, but accounting in which he averaged "B."  He was the only one in his class that finished with a diploma.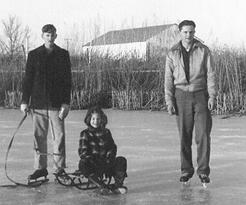 He was hired by Union Pacific Railroad as a Telegrapher 6 June 1950.  Worked at Ontario, Oregon, Reverse, Wendell, Payette, and many other places. 
He bought himself a 1940 Hudson in which he was in an accident and his car turned completely over.  His only injury was a sprained thumb.  The other party was to blame and had to fix his car.  He then traded the Hudson on a 1950 Ford. 
He was best man for his brother, Hal, when Hal married Claudeen Sly 2 March 1951.  The reception was in Salt Lake City. 
He moved with his parents to Nampa, Idaho in May 1952, after they had sold the Fruitland farm and purchased a 40-acre farm about five miles south of Nampa.  Here he worked at Nampa as a Telegrapher and helped his parents run the 40 acres plus a rented 40--milking cows, hoeing beets and beans and corn and weeding onions. 



He married JoAnn Hall in the Salt Lake Temple 2 December 1953.  Had their reception in Nampa 2nd Ward.  His brother, Karl, was his best man.  They lived in a tourist camp, Gray's Motel, in Nampa for a short time—about a month.  Then moved to a little, two-room house in Nampa owned by Mrs. Tiffany.  They had a parakeet.  It would swing on the telephone cord while they weren't home.  It flew into the window and died. 
They then moved to a three-room house on 21st Avenue in Nampa, where they were living when their first child, Robin, was born 16 September 1954.  They then moved out in the country in a three-room house in back of Murphy's, where they lived when their second child, Danette, was born 13 October 1955. 
He was called to work at Pocatello, Idaho in January 1956.  Was promoted to Train Dispatcher 1 June 1955. 
They then moved to Val Verda, Utah and he is Dispatcher for the Union Pacific Railroad at Salt Lake City, Utah.  They lived in the basement of Fairfanks' home.  They then purchased the home in West Bountiful of his brother, Hal, so Hal could move to Fruita, Colorado, where he had purchased a 40-acre farm.  It was here their third child, Scott, was born in Salt Lake Hospital 27 June 1957.  Then 27 October 1958, twins were born to them, a boy and a girl:  Kim Ann and Byron Kris.  He has 13 acres of his own and runs his mother's six acres and another five acres plus about an acre at the home piece of his parents' land. 
Byron was called to go on a mission two different times—once while living in Fruitland, Idaho and again at Nampa, Idaho.  Both times, the draft board refused to release him.  Then they called him up for induction, but he didn't pass the physical because of asthma.  But by this time, he had definite plans for marriage.  However, even after his marriage, he was called up two more times for a physical, but rejected. 
In April 1960, Byron and JoAnn, his mother and sister, Celia, went back to Mason City, Iowa to meet his brother, Karl, when Karl finished his mission.  They all came home in a car, visiting Nauvoo; Carthage; Independence, Missouri; Liberty Jail; Adam Ondi Oham; and many other places of interest.  His father had planned to go too, but the frost got his beets and he had to replant.  It was quite a disappointment.  Karl lived at Byron's and slept in the granary, which Byron fixed as a sleeping room, till he was married in September 1960. 
One of the members at Wausau, Wisconsin, Margaret Schwartz, came out to Utah to attend the B.Y.U. and stayed at Byron and JoAnn's part of the time. 
In August 1961, they went to Yellowstone Park, taking their five children.  They rented a camper and put it on their Dodge truck, having an enjoyable trip.  They also visited JoAnn's father, Joe Hall, in the hills back of Idaho Falls, where he was tending sheep and cattle.  They are now in the process of building a new, red brick three-bedroom home just north of their present home in West Bountiful.  Their two oldest children are attending school in West Bountiful--Robin in the 2nd grade and Danette in the 1st grade. 
Byron and JoAnn are visiting the temple quite frequently and also taking part in ward and family sealings.  Byron was First Councilor in the Elders' Quorum and is now one of the Seven Presidents of the Seventies Quorum.  Also on the Senior Aaronic Priesthood Committee and Ward Teacher. 
Byron was sustained Bishop of West Bountiful 1st Ward 12 November 1967.  Ordained 14 November 1967 by William J. Critchlow, Jr.