BERNHARDT SCHULTHEIS & ELIZABETH WEIGMAN
A note by:  Beatrice Parkin Schulthies and Celia Schulthies Darnell

Berhnardt Schulthies was born 19 August 1839 at Weichs Am Randen, Baden, Germany and was a Catholic.  His parents were:  Matthaeus Schultheiss and Maria Magdelna Bollin.  He married Elizabeth Weigman (a Methodist, who was born November 1852 at Weston, Platte, Missouri) on 25 December 1873 in Weston, Platte, Missouri.  Of this union, seven children were born:  Mary, Benjamin Franklin, Henry Frederick, Mathilda "Tillie", Cellia, John A., Joseph, all born near Kickapoo, Kansas. 
While in Germany, he graduated from school, as evidenced by the following school graduation certificate, dated 19 April 1854. 
Bernhardt died on 26 January 1887 at Winchester, Jefferson, Kansas from injuries received when his team of horses run away dragging him to death.  The horses run from 5th and Pawnee to 5th and Delaware in the city of Leavenworth, Kansas. 

Bernhardt's wife, Elizabeth Weigman, died two years later on 9 June 1889, leaving all seven children orphans.    
Hence, there was a difference of opinion as to the correct spelling of "Schultheiss".  One family member spelled it "Schultheis" another "Schulthies" and there may have been even different spellings.  Son, Henry Frederick, (age 9) spelled it "Schulthies", which appears to be in error evidenced by the spelling of "Schultheiss" on Bernhardt's graduation certificate.  [In German, when there are two "ss" at the end, the first "s" is written to look like a "z".  When emigration occurred, very often the second "s" was dropped.]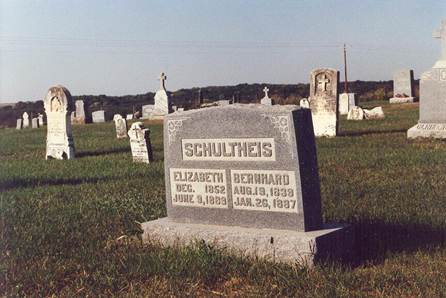 [See graduation certificate below.]
Graduation from the elementary school
Bernhardt Schultheiss born Aug 19, 1839
is on the 19th of April, 1854, being released (graduated)
from the elementary school (town)? and is therefore being given
this diploma (graduation certificate)
                                                City the 19th of April 1854
Published or printed at the Roos'slchen Printing House in Engen.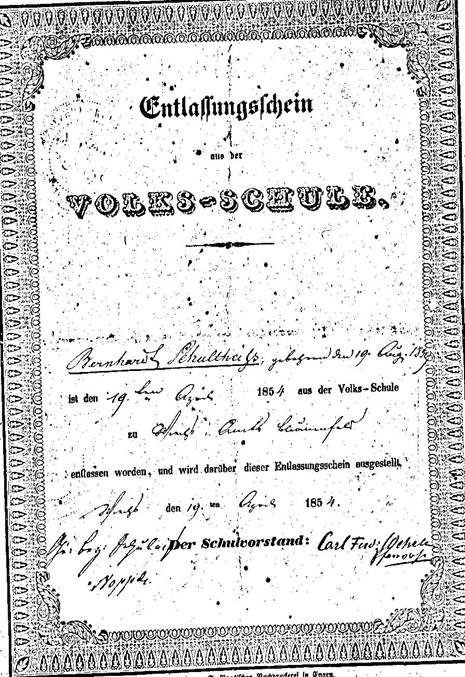 Bernhardt Schultheiss Graduation Certificate