CELIA SCHULTHIES DARNELL
                                                                                    By:  Celia Schulthies Darnell

I was born in West Bountiful, Utah (or as my birth certificate says Woods Cross) in the house below the current I-15 freeway (which was removed to build the freeway at 4th North) on 10 February 1943 at 11:00 p.m., while my five older brothers went to play basketball.  I am brown-eyed and the youngest child of Rendell Howard Schulthies and Beatrice Parkin Schulthies.  My brothers are: 
                        Rendell Frederick Schulthies, born 26 July 1922
                        Norman Howard Schulthies, born 27 July 1924
                        Hal Parkin Schulthies, born 5 September 1926
                        Byron Shelton Schulthies, born 7 June 1931  and                                                                 
                        Karl Barnhardt Schulthies, born 22 April 1937.                                                                    

My earliest remembrance is when I was two years old and my brother Norman came home from World War II, while we were living in the basement at 380 N. 800 W., West Bountiful, Utah.  Our family was so very happy.  I wore a too-small white dress with small pink rosebuds for a nightgown and was told I could sleep with Norman.  How special I felt!  My father was in the process of building this house and we didn't yet have a bathroom put in, so we had an outside toilet.  I remember my brother Karl getting his fanny pecked by the geese after Mom had let his long underwear flap down for him.  I didn't like to "go" outside either, because our little lamb would butt me and make me fall down! 
Christmas of 1946 we had just moved upstairs (Dad was building this house) and I remember getting a red tricycle for Christmas, which I was allowed to carefully ride around the house on the hardwood floors my Dad had just finished.  In March of 1947, we moved to Fruitland, Idaho (with our fox terrier "Porky" in the back seat) where Dad and Mom had purchased an 80-acre farm.  Only my youngest two brothers moved with us as Fred and Hal were married and Norman had a job in Utah. 
I attended 1st, 2nd, and 3rd grades in Fruitland.  My favorite pastime was catching mice with Porky—lots and lots of mice.  When I was five years old my summer job was to herd the cows, after Karl and Byron had milked them in the morning, to the other end of the farm so they could graze all day.  We did this because we didn't have the entire 80 acres fenced.  Mother would fix me a sack lunch and make 1 qt. of lemonade in an old fruit jar, hand me an army blanket and some funny books, and off Porky and I went.  The army blanket was used for shade.  As I saw the sun get low in the sky, I knew it was time to herd the cows home for their night milking.  As a girl under nine years, I picked sweet corn, tromped hay in the wagon the horses (Nell and Brownie) pulled (so more hay would fit on the wagon), fed chickens, turkey, pigs, and occasionally was brow-beat into milking, washed all-day-long's dishes because Mother was working in the fields also. 
When I was nine, we moved 50 miles away to Nampa, Idaho, so Dad was closer to the Union Pacific Railroad where he worked as a fireman in addition to farming.  Here we had a 40-acre farm which Dad planted all to "row crops."  So we now didn't have hay to take care of, nor did we have any pasture for our herd of cows, so we rented a farm 5 miles away for the cows in the summer.  Byron got married and when Karl left home to work on the Western Pacific Railroad out of Salt Lake City, Utah, that left mother and me to milk the cows.  Each morning and night mother drove our Model A over to the rented pasture.  We milked the cows and loaded the 10-gal. milk cans full of milk up into the trunk.  Years later, I found several hernias, one of which the doctors attributed to heavy lifting many years ago. Gradually, as we bred the cows and they "freshened," we sold them.  On this farm, I helped Dad plant onions, sugar beets, corn, and pinto beans.  I also did the beet thinning and hoeing, weeded and topped onions, and changed the irrigation water while Dad was in Boise working.   I tried to help my Dad do anything my brothers had done.  I even stepped in his footsteps out to change the water.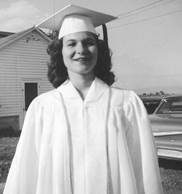 I attended 4th and 5th grades at Sunny Ridge School, not far from our farm.  It was a two-room schoolhouse with 1st, 2nd, and 3rd grades in one room and 4th, 5th, 6th and 7th grades in the other.  I played "taps" on my trumpet each morning as the flag was raised.  Lone Star School was where I was bused for my 6th grade.  The 7th, 8th, and 9th grades found me at Central Jr. High School in Nampa, where I took band as my elective.  Never having a private lesson on my trumpet, I still was first chair in the trumpet section most of the time.  My sophomore, junior and senior year found me at Nampa High School enrolled in shorthand, typing, and dropping band I was able to take drama and speech classes.  One three-act play I had a major role in was called "The Egg & I".  I studied hard and was admitted to the Honor Society (top 10%).  Math and science were difficult for me, while English and business were easy for me.  I graduated with honors from Nampa High School in May 1961. 
After high school graduation, I went to stay with my three oldest brothers in Fruita, Colorado, helping them hoe tomatoes, etc. for the summer.  There, in August 1961, at a church dance, I met a boy in a white T-shirt and levis with a crew cut in blue eyes by the name of Don Darnell.  We both attended Brigham Young University that fall.  In November of 1961, Don and I were sitting on the outside steps of the basement apartment I was living in when he gave me my first kiss.  That turned into three kisses and I was hoping for a fourth, when he said, "I don't want to overdo a good thing."  And that good thing has never been overdone!! 

I dropped BYU after one year in order to save enough money to get married which happened on April 12, 1963.  We lived on campus at 4C 206 Wymount Terrace, Provo, Utah.  I worked for the BYU Construction Engineer as his secretary, taking care of all the paperwork to build many, many BYU buildings.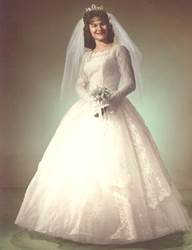 Don continued on at BYU, enrolled in the Air Force ROTC, graduating in January 1966 and headed  to Big Spring, Texas at Webb AFB to get his jet pilot rating.  Here we lived (3907 Hamilton St.) for one year and our oldest son, Douglas Ross Darnell, was born November 29, 1966.  We then moved to Davis-Monthan AFB at Tucson, Arizona for 6 mos. for Don to attend a missile school.  Then Don was sent to Clark AB in the Philippines.  Doug and I moved to Bountiful, Utah until Don's name came up on the Air Force approved off-base housing list.  We moved to 36-6 Don Segundo outside Clark Air Base and there our second boy, Robert Brock Darnell, was born on October 18, 1968.  Back to upgrade school at MacDill Air Force Base for another 6 months and our third son, Darren Young Darnell, was born at 6306 So. Adelia St., Tampa, Florida on June 5, 1970.  Next, Don had orders to fight in the Viet Nam War for one year, flying the F4D Phantom fighter-bomber.  So our family moved to 167 S. 425 W. Bountiful, Utah near my mother and brother Byron while we waited.  Little Darren was only five weeks old and was afraid of his father when he came home from the war.  Don's next orders were to George AFB in Victorville, California where he taught flying in the F4 for four years.  (We spent two months at Luke AFB at Glendale, Arizona on temporary duty while Don went to F4 Instructor School in preparation for George AFB.)  We bought our first home at 15680 Inyo St., Victorville, CA where our fourth and only brown-eyed child, Rebecca, was born on December 5, 1974.  Reluctantly, we then moved to Okinawa, Japan, where we lived on the South China Sea for a few months until officer's quarters became available on Kadena Air Base.  The children and I lived through several typhoons while Don flew his airplane to safety and came home when the danger had passed.  It was here I became pregnant with our fifth child, Deborah.  It was a high-risk pregnancy, both from a kidney standpoint and a gynecology standpoint.  Since there was no doctor qualified to care for me we were sent to Homestead Air Force Base in Homestead, Florida in March of 1978.  Our fifth child, Debbie, was born June 11, 1978 while we lived at 2371Missouri Ave., Homestead AFB, FL for one year, after which Don resigned his regular commission from the United States Air Force on March 18, 1979 and took a reserve commission. 
We then moved to Casper, Wyoming where Don sold mechanics' hand tools for MATCO.  These were difficult times and it became necessary that I go back to work.  Here I worked for a lawyer who became the Chief Justice of the Wyoming Supreme Court, then for the next governor of Wyoming and then for a lawyer who later became a judicial district court judge.  This fulfilled my dream of becoming a legal secretary. 
We moved to Broomfield, Colorado (880 Daphne St.) in August 1984, where Don had a job flying scientists at the National Center for Atmospheric Research and later flew as a Captain on United Airlines B-727 and A-320, as well as serving in the Air Force Reserve associated with the Civil Air Patrol.  I again needed to work and was hired by the largest law firm in Colorado working for a water litigator.  I quit after a few weeks of training because the cigarette smoke made me ill.  I was offered $50,000/yr. (in 1984) to continue working, but I turned it down and took a job at the National Center for Atmospheric Research paying me $­­­­­­­­­­­­­­­­­24,000/yr. working for scientists and engineers.  I edited scientific papers for publication, made travel arrangements for 50 employees (sometimes to extremely out-of-the-way places), set up seminars for visiting foreign scientists, wrote purchase orders, took minutes of meetings in shorthand, and much more.  It was a good decision since I was diagnosed with breast cancer and my new job gave me all the paid sick leave I needed to recover and a smoke-free environment.  I worked there from October 1984 to August 2002, at which time I retired.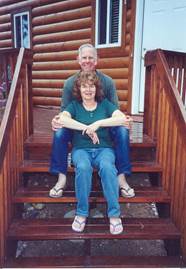 In December 2004 I suffered two severe heart attacks, which left damage to my heart.  I went to Cardiac Rehabilitation, had heart therapy and was somehow able to pack and move to our home we had built in 1999 in the Sierra Mojadas (Wet Mountains) in Southern Colorado in the fall of 2006.  Such a beautiful and peaceful place—with the main view across the Wet Mountain Valley to the Sangre De Christos.  Unbelievable as it was, this fulfilled a dream I had had since my marriage. 
In the Wet Mountains at 9,150 ft., I laboriously grew tomatoes, peas, cilantro, beets, carrots and, somehow, two cucumbers.  Trying to keep deer, our two horses, cottontails, chipmunks, etc. from having a feast was difficult.  In our spare time, Don and I would get on the dirt bike and drive over the surrounding mountains.  Our property ran across the northeast corner of Antelope Butte, which is on the Colorado map, the closest town being defunct Rosita; our mail was delivered to Westcliffe.  As we grew older, we invested in a four-wheeler and went on picnics, seeing much more of the area. 
Our first day at church in Westcliffe, we found there was no one who could play the piano.  Everyone used a CD to sing, which wasn't very palatable.  I was reminded, at that point, that when I was a H.S. Junior I wanted to be able to play any of the Church hymns, if I was called to do so.   I had taken piano lessons for two years in Nampa, Idaho, but all I could play was "We Thank Thee O God for a Prophet" and "Thanks for the Sabbath School," because I had not played the piano after graduation.   I got busy and practiced and practiced, and some 2 ½ years later (when I was 68), there I was playing prelude and then all the songs for the meetings.  I have not yet mastered all of the songs in the hymn book, however. 
To sum it all up:  In 1995 visited Germany where my Schulthies ancestors originated; visited Hawaii several times; lived in Utah, Idaho, Colorado, Texas, Arizona, Philippine Islands, Florida, California, Okinawa, Wyoming; led the life of a farm girl, collegiate, Air Force wife, secretary, Primary President, Relief Society 1st counselor twice, Church pianist; United Airlines Captain's wife; and most important:  mother of five upstanding children and grandmother to 23 wonderful grandchildren.  Being married to a pilot, I spent many hours alone raising the children and dealing with everyday problems.  But I wouldn't change a thing.  It has been a good life.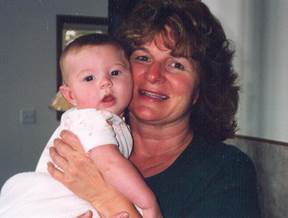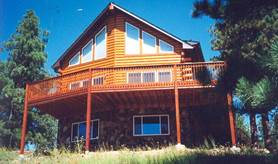 Celia with Analeise Cecelia Luckett born on Celia's 60th Birthday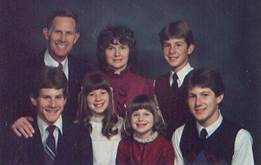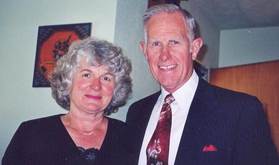 Celia & Don Darnell Family
                                                                                                                                Celia & Don Darnell - Sept. 2005
The following history was written by Beatrice Parkin Schulthies, mother:
CELIA SCHULTHIES (DARNELL)
by:  Beatrice Parkin Schulthies
Celia was born, the sixth child with five older brothers, in the new bedroom of the old, brick house above the Union Pacific tracks in West Bountiful, Utah.  She had light brown, curly hair and brown eyes.  Took her first step when nine months old.  Dr. Diumenti was the doctor. 
She moved with her parents into a rented, three-room house owned by Phylis Hatch when the old home was sold about 1 November 1944.  There, she celebrated her second birthday with a large bakery birthday cake.  She had her picture taken standing by her cake.  She lived here about six months when Paul Buys bought the place, and they were forced to move into the basement of their unfinished, new home in West Bountiful on the old Roberts' corner (380 North 800 West, West Bountiful, Utah) before the shingles were on the roof or any water or lights in the house.  Here, she had a little lamb that she fed with a bottle and would carry it around even when it grew larger than she was. 
She spent her third Christmas in the basement of the new home before it was finished.  Just before Christmas the following year, her brother, Norman, returned from Germany where he had served in World War II.  Christmas of "46" was a very Merry Christmas because of her brother being home and having the new home now completed and a pinion pine with bubble lights.  She got a red tricycle. 
In March of 1947, she moved to Fruitland, Idaho with her parents where they had purchased an 80-acre farm.  She attended Sunday School in the New Plymouth Ward and because she and the Myers' girl  were considered the best behaved little girls in the class, were selected to ride on the L.D.S. float in the parade. 
She started school in the first grade at Fruitland, Idaho.  Mrs. Downing was the teacher.  Mrs. Strawn was her second grade teacher.  She wore a little, lavender crepe paper dress and rode on the float in the May Day parade at Fruitland.  She completed the third grade at Fruitland with Miss Rose as teacher. 
She had a little dog named Porky, which she brought with her when she moved to Fruitland.  It was just a pup then.  She and Porky had much fun in chasing over the 80 acres finding mice holes and once she brought several baby mice in her hand to the house to show her mother what she and Porky had found. 
Her parents sold the 80-acre farm at Fruitland and bought a 40-acre farm at Nampa, Idaho.  They moved to Nampa in May 1952, which was located about five miles south of Nampa.  She then went to the Sunny Ridge School in the fourth and fifth grades.  Mrs. Sarnes was her teacher. 
She continued to play with her dog Porky, dressing him up in her baby clothes and teaching him to dance on his hind legs, putting him in her doll carriage and high chair and rocking chair and he seemed to enjoy it all.  She felt very bad when one morning he came home bleeding at the throat and could hardly drag.  He died soon after.  It looked as though a big dog had hurt him. 
She went to church in the Nampa 2nd Ward and graduated from Primary.  She played the cornet in the school band at Sunny Ridge, Lone Star and Central Jr. High at Nampa.  She went to Lone Star in the 6th grade with Mr. Lind as her teacher.  She played a cornet duet with Donna Wilde at Lone Star talent program. 
She had a birthday party on her 12th birthday and about 15 girlfriends came, all bringing her lovely gifts.  She also received a parakeet from her parents, which she named Sparky. 
The summer she was 12 years old, her brother, Byron, brought her a little white Spitz puppy, which was named Timber.  She combed its hair and tried to teach it some of Porky's tricks.