ALEXANDER HENRY STANLEY
and His Three Wives:  Adelia Ann Brown, Jemima Creager, and Almeda Brown
Compiled by:  George B. Stanley, 13 December 1913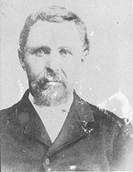 Alexander Henry Stanley was born 28 April 1836, at Suffield, Portage Co., Ohio, the son of Alexander Scoby Stanley and Philinda Upson. 
Alexander Henry's hair was light brown, curly and red cast, blue eyes, 5'8" square built, strong, big bones, red beard-mustache. 
He left with his parents from their home in Ohio on 10 Sept. 1838 locating in Caldwell County, Missouri, 23 Oct 1838.  He left with his parents from their home in Missouri to establish themselves in Nauvoo, Hancock Co., Illinois in April 1840.  Just before he was nine years of age he was baptized at Nauvoo 10 April 1845. 
As a boy, he met the Prophet Joseph Smith, and was well known, as were other children, by the Prophet.  With the rest of his father's family, he left Nauvoo in 1846, and started Westward.  When the Mormon Battalion was called, the Saints could not go further Westward in 1846, but had to stop and build log huts in large enough groups to have schools and meeting houses and a place for their social functions.  The Standley family was located near Punca Indian tribe in Nebraska.  Henry was given the task of herding the cattle of the settlement, which task he continued to perform in the latter years of his life.  When he was twelve years old, the family removed to Potawatomie, Iowa.  Henry there went to school to David Osborne.  Early in 1852, he helped make wagons, yokes and bows, and also helped to learn the steers and cows to travel together.  When traveling across the plains, he drove one team, and had to take his turn with the others in standing guard at night.  With his father's family, he settled in Bountiful, Davis Co., Utah on October 1852. 
ADELIA ANN BROWN was born 23 March 1840 in Niagara County, State of New York, the daughter of William Brown and Phebe Narcissia Odell. 

Adelia Ann had curly black hair, dark blue eyes, pretty, short and quite heavy, small hands and feet, very shy and bashful, and always doing good.  When she was tickled, she laughed till tears came out of her eyes.  Made quilts, aprons, did a lot of knitting and cross-stitching on aprons, cheese.  Her parents were converted to the Gospel in 1843, and with them she went to Nauvoo the same year. 
She crossed the plains with her father and his family, and with them arrived in Salt Lake City 22 Sept. 1847.  She was baptized in March 1848 at Salt Lake City, Utah.  With her father and his family, she removed to Bountiful, Davis Co., State of Utah, and there met her future husband. 
Alexander Henry Stanley and Adelia Ann Brown were married at Bountiful, Davis Co., Utah 27 Oct 1856 by John Stoker. 
Shortly after the marriage, Henry was called to help repel Johnston's Army and he has told me how they rode around the peaks in Echo Canyon, changing hats and other wearing apparel to make the invaders think there were many times the number that were actually there.  In the night time, they would build huge fires and keep men moving to and fro about them all night, to scare the invaders. 
This couple were sealed together, just after having their endowments, 20 Sept. 1861.  Shortly after the family removed to Richmond, Cache, County but returned to Bountiful shortly thereafter.  There they stayed until 1876, when they removed to Parleys Park, in Summit County, Utah.  The father was made Bishop of the Parleys Park Ward and presided there as long as he resided in that place.  He was very zealous in his church work.  A plan was suggested to him by a high authority of the Church for the pooling of cattle and Henry put all he had into the venture.  Failure followed, and the family lost everything it had.  The mother was disgusted with her husband for his over-zealousness, as she thought, and from then on, very little harmony was had between them.  The family removed to Logan in 1863, and back to Wanship, in Summit Co. in 1884, where the last child was born.  Lost two children. 
Fourteen children, six boys and eight girls, had been born to the couple.  Separated a few months before Alfred was born.  Shortly after the birth of the last child, the couple were divorced.  Henry went to Lewiston, Cache County.  He sent his family provisions for some time.  He bought Adelia a house in Wanship.  Older boys took care of food till they married.  Adelia was a good cook and housekeeper.  Washed and ironed beautifully.  Lived in a room by herself.  Very pleasant and full of fun.  She had a post and pulley and rope which she hung her clothes on. 
Adelia Ann Brown Stanley removed with her family to Parks City and spent the remainder of her life there.  She did not take any active part in Church affairs and her children followed her example.  However, she remained a member of the Church until her death on 29 June 1916 in Parks City. 
JEMIMA CREAGER.  In after years Alexander Henry Stanley and Jemima Creager, of Lewiston, Cache County, Utah were married and then went to live at Afton, Wyoming.  They afterward moved to Gray's Lake, Idaho where Jemima died, leaving him alone. 
ALAMEDA BROWN.  Years later, he married Alameda Brown, a widow, who died the same year he died, and who was buried in Ogden by her children. 
Alexander Henry Stanley was a very devout and faithful Latter-Day Saint, devoting whatever time was necessary to fill any appointment. 
Alexander Henry Stanley died 2 May 1912 at Lewiston, Cache Co., Utah.  He was buried at Gray's Lake, Idaho, 7 May 1912 by the side of his second wife.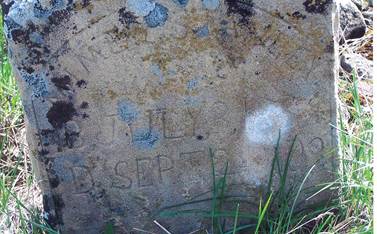 Old Headstone of Alexander Henry Stanley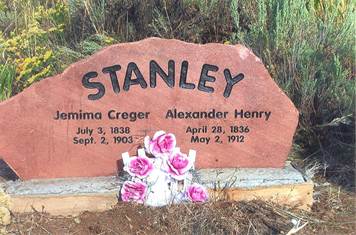 New Alexander Henry Stanley Headstone Prepared by
Gr. Gr. Grandchildren on Schulthies-Parkin Line
Alexander Henry Stanley
Taken from the history of Alexander Scoby Stanley
Alexander Henry Stanley was born 28 April 1836 in Suffield, Portage Co., Ohio.  He was the son of Alexander Scoby Stanley and Philinda Upson. 
His parents joined the Church of Jesus Christ of Latter-Day Saints in March 1837.  On 10 Sept. 1838, they left Portage Co. Ohio for Far West, Missouri, having sent more of their belongings by steamboat.  They arrived where the Mormons were located soon after the Crooked River battle was fought.  It was difficult to find anyone who would let a Mormon family have a place to live in, but finally a new married couple let them occupy part of their house. 
In April 1940 Alexander S. Stanley moved his family to Commerce, Illinois east on the banks of the Mississippi River where he built a nice log house and had it ready to occupy by 1 May 1840. 
In Feb. 1846, at the age of ten years, Henry left Nauvoo with his parents to cross the plains.  They were with Captain Miller's Company.  After the Mormon Battalion was fitted out, the Saints were not able to make the trip.  So they found a suitable place to spend the winter on the banks of the Running Water River (Niobrara) in Nebraska.  They had very little provisions and had to deal out rations each week during this hard winter. 
In 1847 Henry's father moved the family to Potawatomie Co. Iowa and with the help of his boys built a log house.  They put in a garden and a field of corn.  The next spring the corn was sold for a good price to people going to California for the Gold Rush.  With the money they got he bought 20 cows and as many calves. 
Henry came to Utah in 1852 with his parents and eight brothers and sister.  They were in Joseph Howell's Company of fifty and Captain Whitehead's Company of ten.  (Henry was then 14 years old.)  They arrived 1 Oct. 1852. 
From Salt Lake City they went to East Weber where their cattle could live by brousing on the cottonwood limbs, as they had no hay for them.  Henry and his brothers made a dugout in the sidehill with willows, rushes, and dirt for a roof.  In May 1853 they moved from there to Bountiful, Utah where they built a house near the Jordan Island.  They then owned 25 cows, some young stock, and about 50 sheep and 2 horses. 
On 30 Dec. 1854 his father died at the age of 54.  Two years later 27 Oct. 1856, Henry married Adelia Ann Brown. 
Patriarchal Blessing Given to Alexander Henry Stanley
Bountiful, Utah, June 20, 1855
A blessing was given by Isaac Morley, Patriarch, upon the head of Alexander Henry, son of Alexander S. and Philinda Stanley, born April 28, 1836 in Suffield, Portage Co., Ohio.
Brother Alexander Henry, in the name of Jesus I lay my hands upon thy head and by the authority of the Priesthood I seal the blessing of thy Father upon thee.  Thou art in the morning of life thou art honored of the Lord for the day which gave thee birth for thou art permitted to live in the day that many Holy men have desired to see.  Thou hast become an heir to the blessings of Christs kingdom in this last dispensation.  The God of Heaven has promised all things shall be gathered in one when the heart of man shall be restored to his fellow man.  And thou wilt see the turns and overturns that are fulfilling with the nations of the earth.  Thou art at the present time hearing of wars and rumors of wars plainly predicting the fulfilling of the latter days whereby thou mayest know for thyself that the day of the coming of the Son of Man is drawing near.  Therefore let no consideration turn thy mind or thy thoughts from the discharge of thy duty in the new and everlasting covenants. 
The God of nature has endowed thee with gifts when improved with make thee useful to thy fellow man.  Greatly shalt thou be blessed in thy labors for thou wilt yet be honored in avenging the blood of Br. Joseph and the Prophets who have been slain.  Thy spirit shall be fearless in the day of trial for thou wilt know in whom thou has put thy trust.  Thou wilt be blessed with the sons of Zion in gathering Israel and be numbered with the hundred and forty-four thousand who are to stand upon Mount Zion who are to become the Saviors of men in bearing the keys of the everlasting gospel to them and remember while in the morning of life and in the vigor of youth to arrest thy mind because thou hast thine agency which is one of the greatest gifts given by the God of nature whereby we are to act for ourselves and to render an account for all our transactions in mortal life.  Be comforted under the seals of the Priesthood and thy mind shall become illuminated with light.  Thou shalt discern between truth and error.  Thy days shall be spent in usefulness and in honor before the Lord for the keys of the Holy Priesthood will become dearer to thee than thy life.  Therefore rejoice in the Lord for he will be a present help in every time of need.  Let not the follies of youth injure thy mind when thou art honored with the Priesthood and thou wilt be crowned with glory, immortality and eternal lives in the name of Jesus, Amen and Amen.
Patriarchal Blessing given to Adelia Ann Brown
The following Patriarchal Blessing was taken from Book 12 Page 46 in the Office of the Church Historian, 47 East South Temple, S.L.C. Utah No. 1115.  G-S.City 11 May 1953. 
A blessing by John Smith Patriarch upon the head of Adelia Ann Brown, Daughter of William and Phebe born Niagara Co. N.Y. 3 March 1840. 
I lay my hands upon your head in the name of Jesus Christ and seal upon you a blessing for your father even all the blessings of the new and everlasting covenant and all the Priesthood that was sealed upon the Daughters of Jacob.  You shall have a companion perfectly suited to your condition you shall have power in the Priesthood to heal the sick among your sex and in your house.  You shall have a posterity that shall be exceeding great and numerous as the sands upon the sea-shore be saviors on Mt. Zion and stand in the presence of the Lord forever. 
Thy name shalt be had in honorable remembrance in the house of Israel until time shall be no more your years shall be multiplied according to the desire of your heart you shall be satisfied with the riches of the earth for no good thing shall be withheld from you.  You shall have houses and lands at your disposal in the absence of your companion, also flocks and herds horses and chariots men and maid servants that will delight to do thy will.  You shall live to see the winding up scene of wickedness and inherit all the blessings and glories of the redeemers kingdom with all your father's house.  Even so Amen.