HISTORY OF HYRUM BURTRAN PARKIN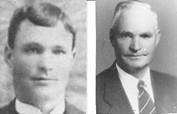 Hyrum Burtran Parkin, oldest child of Hyrum and Phebe Phylinda Stanley Parkin, was born 6 Aug. 1875, South Bountiful, Davis County, Utah.  His father was born in Loscoe, Derbyshire, England, 4 Feb. 1854.  He came across the ocean and across the plains with his father and mother, John and Elizabeth Wright Brown Parkin, and four brothers—Wm. J.; John; Joseph; Heber; and one sister- Harriet.  They were Utah Pioneers of 1863.  His mother was the oldest child of Henry Alexander and Adelia Ann Brown Stanley.  Adelia Ann Brown was the daughter of the first William Brown, Bishop of South Bountiful Ward.
Hyrum Burtran Parkin spent most of his boyhood days helping on the farm and herding cows on the foot hills and meadow lands, in the summer, for his father and neighbors, and attending the district school in the winter.  He was unable to attend full school terms on account of poor circumstances which compelled him to stay home from school to work.  This, however, taught him to handle responsibility when very young.  He did the work of a man on the brick yards when only a boy of 13 or 14.
Then he was employed by the Deseret Live Stock Company to go on the range with their herds.  He worked for this company for several years under the management of Wm. Moss, and was highly respected for his honesty and the interest he showed in the affairs of the company.  He went on a trip to Chicago with Wm. Moss in 1893.
He continued to work for this company for several years after his marriage to Millesant Parrish (daughter of Henry S. and Mary Millesant Parks Parrish) who with their little daughter, Louise, spent the summer months with him on the hills of the Wasatch.
He next worked for the Railroad Company for a while at Woods Cross.  Then he rented a house and moved to Salt Lake City, where he worked in the rail-road yards.  The wages not being very good at the railroad (less than $40 per month), $20 of which was put on savings.))  He decided to go to work at the rock quarry for the American Smelting and Refining Company.  Here he became the Tramway motor engineer for dumping the rock at $100.00 per month, which was considered pretty good wages at that time.
Then he purchased the William Brown (his great-grandfather's) farm of about 50 acres at South Bountiful.  Previous to this, he had built a three room red brick house on a piece of land his father gave him.  Then, when he bought the farm, he sold this house to his brother Archie L. Parkin.  Later he sold 13 acres to his Uncle Joseph Parkin.  Then he and John I. Hatch purchased the Amos Atkinson place just across the road east, each having 9 acres, his half joining his father's place.  About 1928 he bought about 26 acres of the old improved brick yard property.  In 1929 he built the new brick home south of the old Bishop Brown home.  He has been a very hard-working man all his life.  When he bought the William Brown farm there was an old apple orchard on it reaching almost across the entire frontage.  At this time he was working at the rock quarry, riding a bicycle on a dirt road seven miles, working a 10 hour shift then riding back home.  After eating supper he would dig out trees until after mid-night each night in this old orchard until he finally got them out, which made a wonderful improvement to the place.  He raised mostly grain, alfalfa, corn and sugar beets.  Later he planted a small orchard and garden on land east of the Highway.  For several years he kept very fine pure bred Holstein cows, some of which he sold for $235.00 each.
He held many trustworthy and responsible positions in public.  He was District Chairman of the Red Cross during World War I; and he and his oldest daughter, Louise, were awarded badges for their patriotism, loyal support and good work during the war.  He was also a Secret Service man, and the only man of his age in the town to register as a volunteer for his service in the war, but was not called as the war ended before he was needed.
He was President of the first farm bureau organization in the district.  And was Republican District Chairman and member of the Central Committee for several years.  He was County District Road Supervisor for 24 years; and ran the first horse-powered road grader, and also the first motor-powered road patrol in Davis County.  He also mixed the material and laid the first oiled road in Davis County reaching from Woods Cross to Cleverly Crossing.  He was President of the Woods Cross Threshing Co, and was the first President of the Woods Cross Milk Producers Association.  He was President and Director of the Bountiful Mill Creek Irrigation Company, and Secretary and Treasurer of the Mill Creek Trunk Line Co.
He was superintendent and General Manager of the Bonneville Irrigation Company, succeeding Fred Hatch.  He called the first meeting among the neighbors to discuss ways and means of developing the much needed water, which finally resulted in the Bonneville Irrigation Company.  He was also a director in the Company and a member of the South Davis Canal Co.  He was one of the three to file on the Jordan River with Harry S. Joseph and J. Fred Odell.
On account of much of his early life being spent away from home, he was deprived of many Church activities [Church of Jesus Christ of Latter-Day Saints]; but later he held several different offices in the organizations.  He was Secretary in the Y.M.M.I.A. for several years, and was Captain of the first basket ball team in South Bountiful.  He put on entertainments and purchased suits for the team.  He was Counselor to Samuel C. Howard in the Y.M.M.I.A. succeeding him as President of that organization, with John I. Hatch and Calvin Moss as Counselors.  He has been a Ward Teacher for about 35 years, having been released only a short period through sickness.  In previous years he worked on the Old Folks Transportation and program committees and was Ward Finance Collector for about four years.  He acted as Counselor and also President of the Genealogical Committee, with John Smith and Axel Lubbers as Counselors.  He was counselor in the High Priests Quorum with Andrew Gwynn as President.
He was selected as the first President of the Parkin family organization, which was one of the first family organizations in South Bountiful.  Much temple work was done and reunions held.
He was baptized:  21 Oct. 1883 by Wm. J. Parkin.  Confirmed:  21 Oct. 1883 by R. E. Egan.  Ordained a Priest:  22 Mar. 1909.  Ordained an Elder:  26 Apr. 1909 by Clarence Nelson.  Ordained a Seventy by Elder Brigham H. Roberts.  Ordained a High Priest:  24 Apr. 1924 by Walker X. Pack.
He is now a Director in the Davis County Water Users Association, organized in 1944.
He is also Superintendent and Chambermaid of the Dreamland Cabins. 
Thanksgiving Party at Woods Cross
By Millesant P. Parkin
Mr. and Mrs. Hyrum B. Parkin entertained at a family dinner party at their home, Thursday afternoon, November 30, 1944 in honor of their grand-children.
They have twenty one grand-children, three are in the service—H. Wesley Winegar Y-2-C, U.S.C.G., Sitka, Alaska.  T/5 Norman H. Schulthies in Germany and Hal P. Schulthies St.M., U.S.C.G.
After feasting, the afternoon was spent in games and a program which was arranged by Della Howard Winegar and Donna Griffith Schulthies, who also assisted with the serving.  The program consisted of songs, poems and instrumental music. 
A brief account of the landing of the Pilgrims was given by R. Frederick Schulthies.  Others participating were David, Dwayne and Karlene Parkin, Karl and Byron Schulthies; Lynn, Paul, Roger Allen and Bryan Ray Barlow; Barbara Parkin; Dolores, Carolyn and Anita Winegar; Richard and Douglas Parkin.  Celia Schulthies and Linda Diane Barlow were not present. 
All had a time of rejoicing and Mr. and Mrs. Parkin hopes the family circle will continue to grow.  
Hyrum B. Parkin's Birthday Party
by Millesant P. Parkin
Hyrum B. Parkin was honored at a birthday party and family reunion held in the evening of Aug. 6 on the lawn of the Dreamland apartment.  Mr. and Mrs. Newell Barlow had charge of the children's games.  Mr. & Mrs. LaGrande Parkin of the refreshments.  After all had been served they gathered around the table centered with a large cake encircled with seven white tapers each representing ten years.  It was thrilling to see Grandpa light the candles and hear the grandchildren sing "Happy Birthday To You" lead by Barbara Parkin.  Mr. & Mrs. Stanley K. Parkin had charge of the program which consisted of the following: 
A history of Hyrum Parkin was read by Mrs. R.H. Schulthies.  [Unreadable words} music by Dolores Winegar, Lynn Barlow, Byron Schulthies, and Carolyn Winegar.  An Indian dramatization by Richard and Karlean Parkin.  Song by Karl Schulthies.  Poem by David Parkin and an original poem "A Tribute to Father" by Marjorie P. Winegar. 
All inlaws were present except Keith Winegar who was out of town.  R.H. and Mr. & Mrs. R.F. Schulthies missed most of the program on account of work.  All of the 21 grandchildren were present with the exception of Y-2-CH W. Winegar, U.S.C.G. stationed at Seattle, Wash., T/5 Norman H. Schulthies in Germany, ____ Hal P. Schulthies, U.S.C.G. and great grand daughter Lanna Louise Winegar with her father and mother Mr. & Mrs. H.W. Winegar in Seattle.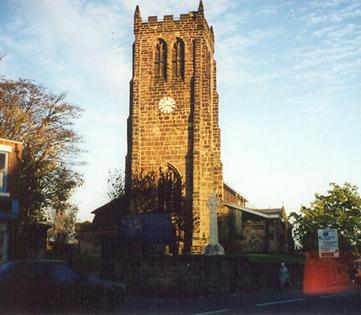 All had a time of rejoicing and Mr. Parkin was especially happy when he was presented with a beautiful signet ring by all the families. 
Tribute to Father
(Written by Marjorie P. Winegar, daughter, for his Seventieth Birthday 6 Aug. 1945)
Why is this day so special?
Why all this fuss and bother?
What makes it so important?—
It's the birthday of our father!
------------------------------------
One wouldn't guess you're seventy;
Not with your vim and vigor.
The things you do amaze us;                                                                                                              
It's more than we can figure.                                                                                                                         
We thought you'd surely taper off                                                                                                                
At sixty years or longer;                                                                                                                                 
Now, many more have come and gone,                                                                                                         
And you are going stronger.                                                                                                                                      
It doesn't seem to quite make sense—                                                                                                          
When others have retired,                                                                                                                              
That you should just be warming up;                                                                                                             
With ambition you are fired.                                                                                                                          
Still, the answer's very simple,
If we take the time to ponder;
You're not an ordinary man,
But the world's greatest wonder!
This last remark may sound strong,
But it's not made in jest;
It is a fact; --you've measured up;
You've more than passed the test.
-----------------------------------------
So many things make up your life,
Of which we are all a part;
It takes a bit of summing up
To know just where to start.
Since first we can remember
You've been our leaning post;
Right there, and ready to hand out
The help we've needed most.
There's been no hint of discontent,
Nor complaints about your task;
You've made us feel, that out of life,
This is all you ask.
You've never been a preaching man,
Your religion is your way.
You seem to understand the right,
And live it every day.
You do not lead a complex life,
Full of hobbies, clubs and stuff;
You seem to like the simple way,
Your family is enough.
Your blessed sense of humor
Will always see you through;
And when it comes to patience
Job had nothing over you.
When you give out with a chuckle,
And there's a twinkle in your eye,
We know there's something spicy,
If you can tell it on the sly.
--------------------------------
A fountain of wisdom you've been
With a far-seeing eye
That looks into life's mysteries
And knows the reason why.
With prominent men you take your place,
Sound judgment they quickly see;
And yet you're just as much at ease
With a baby on your knee.
You have a gift with children;
They drink in every word
Of your amusing stories,
That so often they have heard.
You have found your place in the sun;
You have made yourself a good name.
All of mankind is your friend,
And none has reason to blame.
Men know you for what you are,
Honest, trustworthy, true blue;
And they have been lifted up
For having clasped hands with you.
When someone asks who we are
Comes a thrill like we've never had,
And we swell with pride when we say,
"Bert Parkin is our Dad."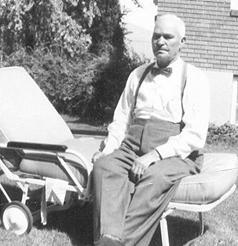 Your children have shared your life,
Our children are sharing it too;
May your days be happy and long
So their children may live them with you.
When our time has been spent,
And we have answered the call
You'll be there at the head—
A Patriarch over us all.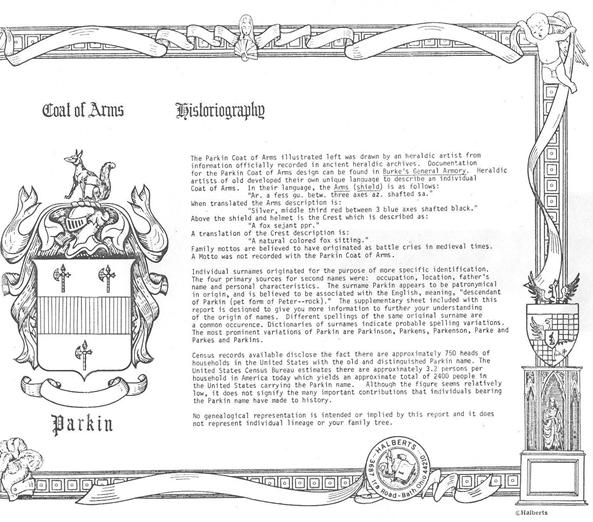 Farmington, Utah
August 30th, 1944
A blessing given by Patriarch, Edward B. Clark, upon the head of Hyrum B. Parkin, son of Hyrum Parkin and Phoebe Phylinda Stanley, born August 6, 1875 [1875], at South Bountiful, Utah.
Brother Hyrum Parkin, by the authority of the Holy Priesthood I place my hands upon your head and confer upon you a Patriarchal Blessing which you are entitled to through your faithfulness and your diligence in keeping the commandments of the Lord.
You were born under the Covenant and a rightful heir to the blessings of the Holy Priesthood and to the blessings of Abraham, Isaac and Jacob from whose lineage you sprang, through the loins of Ephraim, the younger son of Joseph, who received the greater blessing.
And you are possessed of the spirit and power of leadership. Because of your integrity the Lord has been good and kind unto you. And through your faithfulness and humility the Lord will continue to have a watch care over you.
The more you pray and the more you do for the advancement of God's purposes here in the earth the greater will be your blessings. And a steady stream of the Spirit of the Lord shall be poured out upon you that you will enjoy your labors. And the declining years of your life will be your best days.
Because of your obedience to your parents your children shall be obedient unto you and you will rejoice in your posterity in seeing them grow up in the fear and admonition of the Lord.
I bless you, Brother Parkin, that the sweet influence of the Spirit of the Lord may accompany you in your labors and in all that you have to do for the benefit and blessing of our Father's children. Keep your mind fully set upon the observance of the laws of God.
The blessings of Heaven as well as of the earth shall be extended unto you that you may have the wherewith to accomplish all the righteous desires of your heart. Your posterity shall be numerous and many of them will be the means of accomplishing much good.
Wisdom and knowledge will be poured out upon you in answer to your humble prayers for the Lord is always ready and willing to hear and answer the prayers of His faithful children. Honor, power and glory shall come unto you when you have accomplished your mission upon the earth.
I seal you up against the power of the destroyer until you have finished your mission upon the earth, with power to come forth in the morning of the first resurrection and with your companion to become a King and a Queen to rule and reign in the House of Israel forever.
I seal these blessings upon you through your faithfulness by the authority of the Patriarchal Priesthood and in the name of Jesus Christ. Amen. 
_Beatrice Schulthies_____________                         _________Edward B. Clark____________
                        Clerk                                                                                       Patriarch
Typist: ______Thurza J. Adams_________                                                   30 Aug. 1944
The South Bountiful Family
Vol. 1                                                   February 1955 Woodscross, Utah                                                   No. 10
            A WORD FROM THE BISHOPRIC
   "Greater love hath no man than this, that a man lay down his life for his friend," so spake our Savior and Lord.
   To few men can come the opportunity to taste of the fullness of such a complete all sustaining love, and if the opportunity came, how many among us would have the courage, the fortitude, to give voluntarily your life for another. We cling tenaciously to this material orb for we love life, light, beauty, home, friends and loved ones, and although our faith tells us life after this is more beautiful, more edifying, than we with our material or physical senses can ever comprehend, we still hold tight to this life we know and in some measure understand.
   We are not cowards because of this for few have the qualities from which heros are made but all who have a knowledge of the Gospel and know it is true, possess the qualities necessary for attainment of that greater love and can become heros in eternity, a Savior on Mount Zion. A little time, a little perseverance, a little sacrifice, a little effort, a little money and the task is accomplished and a member of our kin becomes joyously happy and free, and until further, we are blessed.
   This month of February—derived from Februare, a Sabine word meaning to clean or to cleanse, seems an appropriate time to commense, for no greater cleanliness can come than to be baptized by water and fire, purified completely, and be endowed for continuation of ever-lasting life.
   Greater love hath no man than "To open the blind eyes, to bring out the prisoners from prison, and them that sit in darkness out of the prison house". Is. 42:7.
                        --Herbert Baily 2nd Counselor
---------------------------------------------------------------
            ATTENTION YOUNG MEN**
   A man of our South Bountiful Family has made a RECORD that will challenge any energetic Young Man of the Ward Family. Read on and see if you think you can match his record by the time you are 80 years old.
   Hyrum Burtran Parkin is the eldest child of Hyrum and Phoebe Phylinda Stanley Parkin. He was born August 6, 1875 at South Bountiful, Davis County. He has been a hard working person all his life. He did a man's job when only 14 years of age. He worked for the Deseret Livestock Company and took such an interest and worked so well that he was privileged to go to Chicago with W. Moss in 1893. (18 years of age.)
   Later he worked for the Railroad Company in Woodcross and Salt Lake and after that at the American Smelting & Refining Company where he soon pulled down top wages as a tramway motor engineer. He purchased the Wm. Brown (his great grandfather's) farm and continued working hard, buying and selling property, and increasing his holdings and their value, all the rest of his life. He built the brick home in 1929 and (as we heard it put) he was also superintendent and chambermaid of the Dreamland Cabins.
   His civic service has also been very praiseworthy. At various times he has been District Chairman of the Red Cross (during World War 1, he and his daughter Louise, were awarded badges for their loyal support, work and patriotism), President of the first Farm Bureau in this district, Republican Central Committee, County District Road Supervisor (during which time he had the distinction of running the first horse-powered grader as well as the first motor-powered road patrol. He mixed the materials and laid the first oil road in Davis County from Woodscross to Cleverly Crossing), Superintendent and General manager of the Bonneville Irrigation Company and a Director and Member of the South Davis Canal Co.
   His list of church services is just as impressive. He has been at various times, Captain of the South Bountiful Basket Ball Team, Secretary then Counselor, then President of the Y.M.M.I.A., Member of the Old Folks Transportation Committee, Ward Finance Collector, Counselor then President of the Genealogical Committee, Counselor of the High Priests Quorum, first President of the Parkin Family Organization (one of the oldest in South Bountiful), Temple Worker and a block teacher for 45 years.
   He married Millesant Parrish in the Salt Lake Temple and they are the parents of 8 children. Sister Parkin died some years ago and he married Vera Johnson in 1949. HE boasts being grandfather to 30 grandchildren and 11 great-grandchildren.
   Although his life has always been very busy, he has had fun along with his work. He won many "bare-knuckle" fist fights and still holds the Championship Tight-rope Walking title of Davis County, having walked a derrick-rope Billy Atkinson Jr. stretched over a hay stack one 4th of July, out-doing all comers. He of course, won the prize too—a dish of ice cream!
   If any of you youngsters feel you can match this record either in WORK, ECCLESIASTICAL ACCOMPLISHMENTS, or in CHAMPIONSHIPS you will have a lot of activity ahead of you and you had better get started right away. And we hope when you are as old as he, that you are as full of good humor and have as bright a twinkle in your eye as he has. It is a great privilege to visit with such a folk as he.