HISTORY OF HYRUM PARKIN
 son of John and Elizabeth Wright Brown Parkin, Pioneers of 1863
Written by his daughter-in-law Millesant Parrish Parkin

Hyrum Parkin, son of John and Elizabeth Wright Brown Parkin, was born 4 Feb. 1854, Loscoe, Derbyshire, England.  He died 18 Aug. 1899, Bountiful, Utah.
He was a pioneer of 1863 coming from England with his parents, four brothers and one sister.  They arrived in Salt Lake Valley, 4 Oct. 1863.  They were early settlers of South Bountiful, Utah.  He was then nine years old and went through the hard times with the other pioneer children at that time.  He helped his father on the farm and herded cattle on the foot hills and bottom lands.  He was an honest hard-working boy and believed in dealing fair with his playmates.
Because of poor circumstances his privilege of attending school was very limited.  Nevertheless, he was a wellread man.  He made it a practice of obtaining good books, especially histories both ancient and modern and spent a great part of his time, when not at work, in reading and studying these histories so that he could converse very intelligently on most any subject with his friends or strangers that came along.  He had a keen memory and could remember dates and facts that were surprising to his associates.
He was married to Phebe Phylinda Stanley, daughter of Henry and Adelia Ann Brown Stanley, 9 Dec. 1872 in the Endowment House in Salt Lake City.  They were the parents of six children, five boys and one girl; namely,  Hyrum Burtran, born 6 Aug. 1875; Archie Lindsay, born 11 Aug. 1877; Vada Lorene, born 17 Jan. 1880; John Henry, born 31 Oct. 1882; Cyrus Elmer, born 24 Dec. 1887; Franklin, born 15 Aug. 1890, died 15 Aug. 1890.
The early part of his married life he worked with a government surveying party in the southern part of the state around what is known as Salina and Castle Valley.  No doubt this was the beginning of a serious kidney trouble which caused his early death, as the water was very poor which they were compelled to drink.  He also worked on the Sharp Walker Ranch in South Bountiful for some time.  He then worked for Varley an Everell  Lime Company as a lime burner, an occupation he followed until about a year before his death.  He spent a few months before he died on the Deseret Livestock Company's sheep range where his oldest son, Hyrum Burtran, wife and baby Louise were spending the summer employed by the same company.  The camp he was staying in was quite a long distance from the camp wagon his son occupied, but he was very anxious to see him so he started out alone and walked quite a number of miles before he reached his son's camp.  He was very tired, but after resting and eating dinner which consisted of stewed lamb and dumplings, his favorite dish, his son gave him a hair cut and shave. When they were finished he said, "Well, Burt, I won't be with you long.  My mother came for me last night, and it wasn't a dream. I was wide awake and she came and stood in the camp wagon door and she looked beautiful and young and smiled at me and I knew she had come for me. Just as I was going to speak to her she left."  The tears ran down his cheeks as he continued, "So I know I am going to die."
When he left he said to his little granddaughter, "Goodby Louise; I don't know when I will ever see you again."
His son tried to persuade him to go right home but he didn't go for a week or so. 
Not long after that his son saw Mr. Howard riding a horse toward his camp wagon and when he rode up to the camp he said to Mr. Howard, "Father is gone, isn't he?" and he answered, "Yes, we just got word."
Although he never held any prominent positions in the church or community, he must have been highly favored of the Lord to be visited by a personage from the other side.  This was a great testimony to him and it should be to his descendants.
His father helped him build his two-room log house where he and his wife and family lived until they built their new brick home which was a very nice home.  It was well furnished and kept up very well, with beautiful lawn and flowers as long as his wife lived which was 40 years after his death.
The following is from Harriet Varley's daughter, Allen Ash:
Hyrum Parkin sailed for America 30 May 1863 on ship Syneshore from Liverpool to New York in the David M. Stewart Co.  There were 754 saints in this company.  They landed in New York 19 July 1863. On Aug. 10 1863 they left Florence, Nebraska in the Thomas E. Ricks Company to come to Salt Lake. This trip was 8 weeks. They landed in Salt Lake City where the City and County building stands on 4 Oct. 1863.  They were 5 months and 16 days coming from England to Salt Lake City.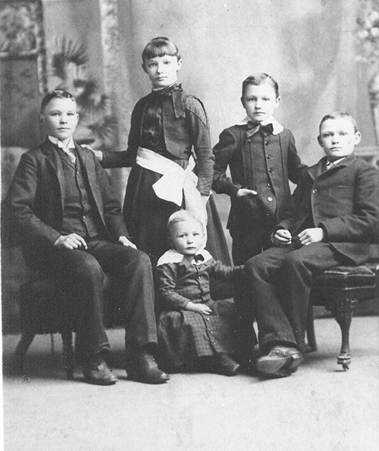 Hyrum Burtran, (left sitting), Archie Lindsey (right sitting), Vada Lorene (girl standing),
John Henry "Jack" (standing), Cyrus Elmer (baby)