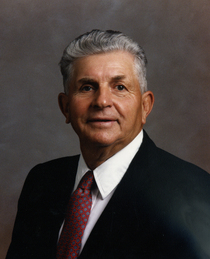 Hal P Schulthies
Richfield, Utah
Hal Parkin Schulthies, 87, passed away, January 22, 2014. He was born September 5, 1926 in Bountiful to Rendell Howard and Beatrice Parkin Schulthies.
He married Claudeen Sly, she preceded him in death in 2001. He married Genevieve Cook.
Hal served in the Coast Guard during WWII. He loved farming and made a career of it. He was an active member of the LDS Church serving in many capacities including bishop and a member of the Santaquin-Tintic Stake High Council.
He is survived by his wife, Genevieve; children, Sharon, Brenda, Randy (Jeanie), Shauna, Shane (Kimberly) and Rod; step-children, Genann (Cliff) James, Mark (Tammy); 27 grandchildren; 35 great-grandchildren; 3 great-great-grandchildren; brother, Karl (Ruby) and sister, Celia (Don). He is also preceded in death by his parents; brothers, Fred, Norman and Byron.
Funeral services will be held on Thursday, January 30, 2014 at 1:00 p.m. in the Richfield 16th Ward Chapel, 805 North 500 East. Friends may call at the Magleby Mortuary in Richfield on Wednesday evening from 6 to 8 or at the ward chapel on Thursday from 11:30 to 12:30. Additional services will take place on Friday, January 31, 2014 at 11:00 a.m. in the Elberta LDS Ward Chapel, 75 South Center, where friends may call on Friday from 9:30 to 10:30. Burial will take place in the Bountiful City Cemetery at 2:00 p.m with military rites.