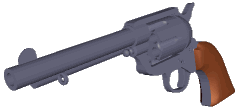 Virtual Revolver

[ Get viewer / Help ]

My workstation was named colt, so I decided to create a 3D-model (127kB, compressed to 26kB) as a logo for it.




Interaction: Relevant parts of the model moves, when hammer, trigger and cylinder is clicked in the 3D view. It is made without use of scripting, so it is not very intelligent. I removed the shells, to make the movement more believable, but leave a single bullet (2.5kB), around.

Mechanical: I knew very little about the details of the gun, apart from what I could guess from various images found on the Net. The X-Z proportions are as accurate as the source image allows, but the thickness of the frame and trigger are merely assumptions. (Dimensions are fictive;) I think it is necessary to oversize the trigger slightly, to maintain visibility, though.
There are no user-serviceable parts inside. In fact, there are no parts inside.

Technical: The model was created in July 1997, from vertices and surfaces, with very primitive tools, and it surely shows in some places. Animation, materials, and fine-tuning done with text-editor June 1998.

I don't intend to promote guns in any way, but I think it was a really good challenge for the modeling exercise. (and a bit more manageable than building a horse;)

The Colt trademark is property of Colt's Manufacturing Company, Inc.
---
Exits

This work is licensed under a Creative Commons Attribution-Share Alike 2.5 License.
---
Casper Maarbjerg August 13, 2006
Comments welcome.