Mallaig to Ratigan, 06 May 2006

Back to pictures
---
06 May 2006
Taking the ferry north from Mallaig to Armadale, north on the A851
Meeting up with the A87 and heading east over the Skye Bridge at Kyle Of Lochalsh, around the A87 past Dornie to the end of Loch Duich to Shiel Bridge and west to Ratigan. Then west to Glenelg to see the brochs and back again to Ratigan.
Morning in Mallaig and on the ferry to Armadale on Skye.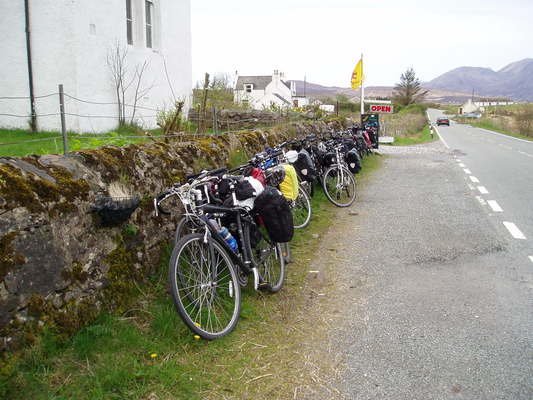 Parked outside the tea stop in Skye. (picture courtesy of Dave A. and Caroline)
Skye Bridge, pretty where the bridge runs into a sea of gorse.
And the view of the bridge from Kyle Of Lochalsh.
Eilean Donan Castle. Link
Che and Anna going to see Eilean Donan Castle.
And arrival at the hostel in Ratigan.
Right on the Loch Duich
Ok, why exactly did I agree to go 24 miles over a very steep mountain pass to see some brochs?
At the first broch, Dun Telve, of the brochs of Glenuig, link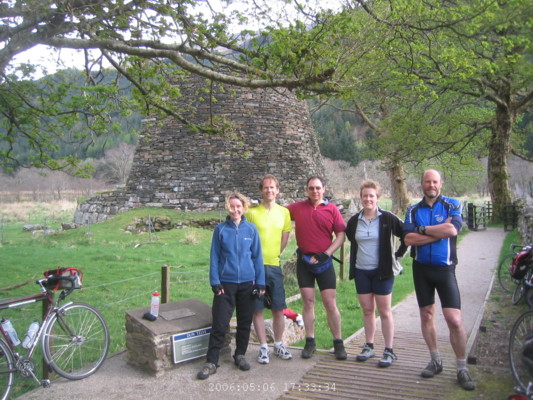 The foolhardy group who rode over the pass, Che, Kerry, Gary, Cheryl, and John. Anna took the picture.
The road back over the pass wasn't so bad, not as steep as the way over.